Vanilla Chai Cupcakes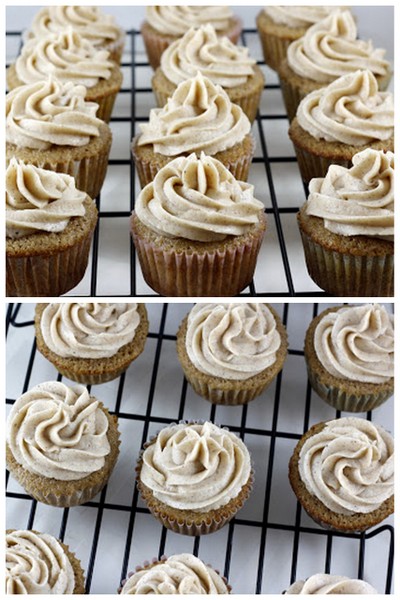 How good do these vanilla chai cupcakes look?? They are so perfect for fall. They are full of cinnamon and spice and have the wonderful taste of chai tea – in cupcake form! They are light and cake-like, and the frosting is perfectly sweet and creamy. I made these cupcakes to celebrate the engagement of Mike's sister Jess, and her fiance Brett. Aren't they a cute couple?
They shared their celebratory cupcakes with some of our friends, and everyone loved them. Mike kept saying "the frosting to cupcake ratio is perfect!" (He's an accountant, he thinks in ratios). Our other friend, Kevin, said (with his mouth full) "you need to rename these 'Octoberfest Cupcakes' because they taste like Fall!". Suffice it to say the cupcakes were pretty much devoured, and I can't wait to make them again.

Vanilla Chai Cupcakes
Ingredients:
Cupcakes
1 stick (1/2 cup) butter
1 cup sugar
2 tsp vanilla extract
2 eggs
1/2 quantity chai spice mix (recipe to follow)
1 1/4 cups plain flour
1/4 tsp salt
1/2 cup buttermilk
1/2 tsp baking soda
1/2 tsp apple cider vinegar
Chai Spice Mix
1 1/2 tsp ground cardamom
1 1/2 tsp ground cinnamon
1/2 tsp ground ginger
1/4 ts cloves
1/4 tsp ground nutmeg
Vanilla Chai Buttercream
2 sticks (1 cup) butter
1 tsp vanilla extract
2 cups powdered sugar, sifted
1/2 quantity chai spice mix
1-2 tbs cold milk, if needed
Directions:
For the cupcakes: Preheat oven to 325 degrees. Grease a cupcake tin or line with cupcake wrappers. Mix spices together in small bowl and set aside.
Cream together the butter and sugar. Add the vanilla and beat in one egg at a time. Stir in half the quantity of chai spice mix. Sift together the flour and salt into a separate bow. Fold in the flour mixture and buttermilk alternately and stir until combined. Be careful not to over mix. Mix together the baking soda and vinegar and stir into the batter.
Spoon into prepared cupcake tin until 3/4 full and bake 15-20 minutes or until a toothpick inserted in a center cupcake comes out clean.
For the icing: In a stand mixer, beat the butter until it is creamy. On low, mix in the vanilla and the rest of the chai spice mix. Carefully beat in the icing sugar about ½ cup at a time. If the buttercream is too thick add 1-2 tbs of cold milk until the desired consistency is reached.Then pipe onto cooled cupcakes with your favorite frosting tip.