Saturdays with Scamp – Introduction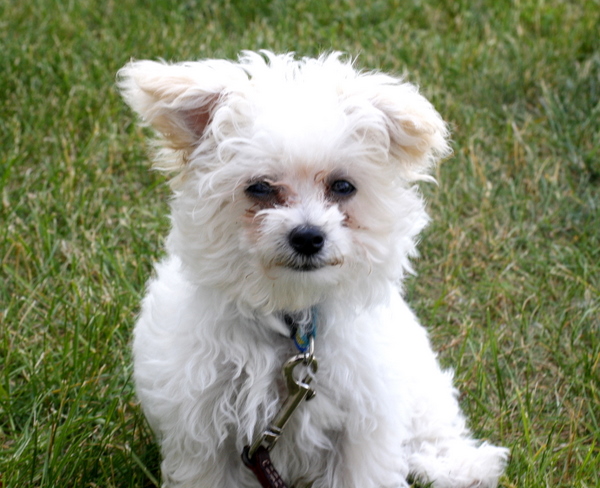 I have a fun new mini "series" to share with all of you. I was recently contacted by Nutro, a pet food company about possibly doing a few posts about Scamp and introducing him to our home. They offered to send me some free pet food and treats, etc, and my part would be to try Scamp out on their pet food and write a few posts about him. Well, as you all probably know, I absolutely love writing about my puppy, and thought this sounded like a fun opportunity! However, I wasn't completely convinced until I checked out their website and mentioned Nutro pet food to our vet found and out she wholeheartedly approved of their products.
The result? Saturdays with Scamp – a fun look into the adventure of bringing a new puppy into our home. I chose Saturdays so that it wouldn't interfere with my normal food/recipe postings (and because of the alliteration!). If you're interesting in reading puppy stories, read on. Otherwise, check back on Monday for a fun new recipe.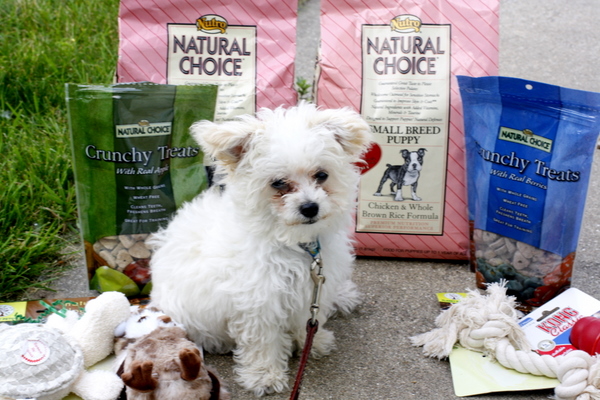 Check out all of the cool stuff Nutro sent for Scamp! Nutro really believes in the importance of good nutrition for your pets, and I'm excited to try Scamp out on their all natural puppy food! Let me tell you, getting him to pose there with all his new treats was quite the process. He definitely hasn't learned the "stay" command yet, and you wouldn't believe how long it took me to get this shot. It's still a little blurry, but that's as good as it's going to get at this point. As it turns out, photographing puppies is a little different than photographing food.
Nutro also sent me a flip video camera to document some of Scamp's fun daily activities. I can already tell that I'm going to be one of those annoying pet owners that constantly forces people to look at pictures and videos of my cute puppy. Thankfully I have a blog at my disposal where I can broadcast his cuteness to the world. 🙂 Here is Scamp checking out all his new stuff. This is seriously my first ever video, and there is clearly a slight learning curve…
You probably can't tell from the video, but Scamp immediately found the treats and started trying to dig into them. I've actually had multiple people (the vet, our puppy class trainer, etc) tell me that he is extremely food motivated. My kind of puppy. 🙂
As for logistics, we've started Scamp on the Nutro food and so far he seems to love it. It's only been a few days so it's hard to tell, but he actually seems to eat his food more quickly than he used to.  We haven't done too much with the treats, other than let Scamp try to dig his way into the bag, but we'll try those out this week and I'll let you know what he thinks of them.
Do you think Scamp knew this box was for him? 🙂
I hope you enjoy the puppy posts coming up in the next few weeks. As I said above, if you're only interested in the food and recipes, just skip the Saturday posts and check back during the week. 🙂  Although, if you have a pet yourself, stay tuned because there will be a few giveaways coming up!
I've been wanting to put a little bit more of "me" into my blog and this seemed like a fun way to do just that. Adjusting to life with Scamp has been time consuming and difficult, but so fun at the same time. Mike frequently laughs at me and says "it's pretty obvious you love that puppy." And I do. 🙂
This is a sponsored post. Nutro provided me with products and promotional items and is compensating me for my time. As always, all opinions are my own.