Homemade Graham Crackers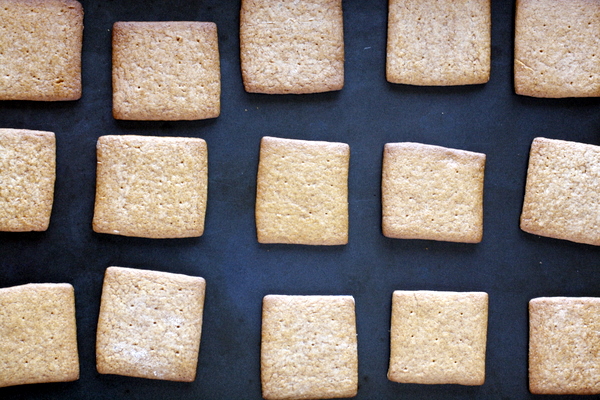 I think Mike's family is starting to think I'm somewhat strange.  When I showed up at our family camping trip last weekend with homemade graham crackers (and homemade marshmallows…for s'mores!), I got a few sideways glances and a few "you can make those homemade?" comments. Once they tasted them, however, there was no room for complaint. These homemade crackers have a great graham cracker flavor, and I would say they taste better than their store-bought counterparts!
The graham crackers were fun to make and not too difficult. I baked mine a little too long and they ended up extra crunchy – not great for s'mores, but perfect for snacking on. I've eaten them plain, dipped in milk, spread with strawberry butter, and dipped in leftover buttercream frosting. Any way you eat these, they make a great snack and a fun camping addition.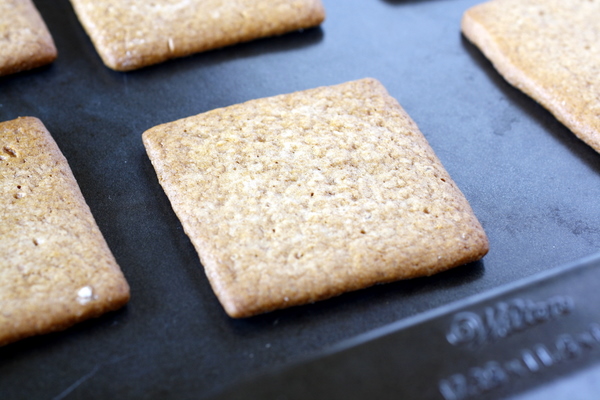 Homemade Graham Crackers
Yield: Makes approximately 48 2-inch squares
Ingredients:
2 1/2 cups plus 2 tablespoons (375 grams) unbleached all-purpose flour
1 cup (176 grams) dark brown sugar, lightly packed
1 teaspoon (6 grams) baking soda
3/4 teaspoon kosher or coarse sea salt (4 grams)
7 tablespoons (3 1/2 ounces or 100 grams) unsalted butter, cut into 1-inch cubes and frozen
1/3 cup (114 grams) mild-flavored honey, such as clover
5 tablespoons (77 grams) whole milk
2 tablespoons (27 grams) pure vanilla extract
Directions:
Combine the flour, brown sugar, baking soda, and salt in the bowl of an electric mixer fitted with the paddle attachment. Mix on low to incorporate. Add the butter and mix on low, until the mixture is the consistency of a coarse meal.
In a small bowl, whisk together the honey, milk, and vanilla extract. Add to the flour mixture and mix on low until the dough barely comes together. It will be soft and sticky. Lay out a large piece of plastic wrap and dust it lightly with flour, then turn the dough out onto it and pat it into a rectangle about 1-inch thick. Wrap it, then chill it until firm, about 2 hours or overnight.
Lightly flour your workspace and roll the dough into a long rectangle about 1/8 inch thick. The dough will be sticky, so flour as necessary. Using a square cookie cutter (or any shape you want) cut out the crackers. Place on parchment-lined baking sheets. Chill until firm, about 30 to 45 minutes in the fridge or 15 to 20 minutes in the freezer. Repeat with with the scraps, chilling the dough if necessary before rolling out again.
Adjust the oven rack to the upper and lower positions and preheat the oven to 350°F. Bake for 12-15 minutes, until browned and slightly firm to the touch, rotating the sheets halfway through to ensure even baking. The crackers will harden as they cool, so be careful not to overbake.