Peach Lemonade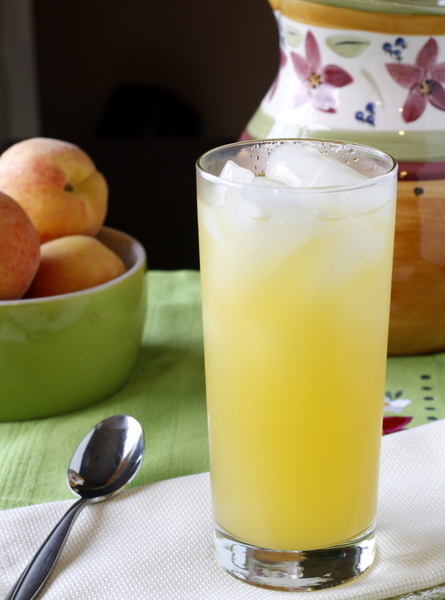 Last Thursday, on the way home from work, I stopped and bought 1/2 bushel of peaches. I was planning to freeze most of them like I did last year, and I left them sitting on my counter for a few days to ripen a little more. Of course, that meant that every time I went in the kitchen I was forced to contemplate a huge basket of peaches. And of course that meant I spent my free time on the internet searching "peach recipes". The result of my little internet search is the peach lemonade you see here.
This stuff is amazing. And I don't say that lightly.  I can't seem to stop drinking it, and yet I want to hoard it as well! I had no idea it was so easy to make your own flavored lemonade, and now I'm regretting not trying a strawberry or blueberry version back when those were in season. The lemonade is perfectly sweet with a wonderful peach flavor shining through. If you like the flavor of fresh, in-season peaches, you've got to try this – it's definitely a favorite in our house!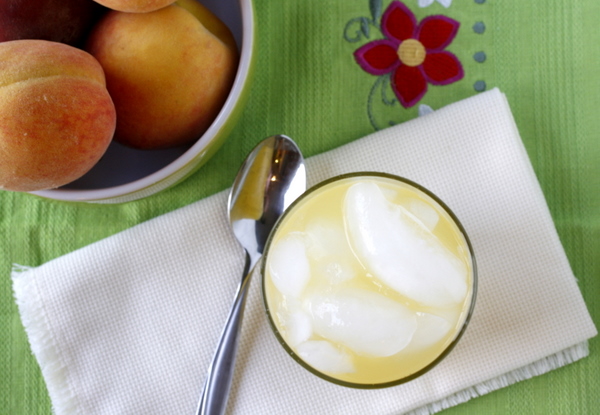 Peach Lemonade
Ingredients:
3 peaches, peeled and chopped
1 cup granulated sugar
5 cups water
3/4 - 1 cup freshly squeezed lemon juice
Directions:
Bring the peaches, sugar, and water to a boil, and then simmer until the sugar is dissolved, about 10 minutes. Using an immersion blender (or transferring the mixture to a blender), blend until smooth. Strain through a fine mesh strainer into a large bowl or pitcher, pressing to extract as much juice as possible. Let cool completely then stir in the lemon juice. Serve over ice.