Zucchini Bacon and Mozzarella Quiche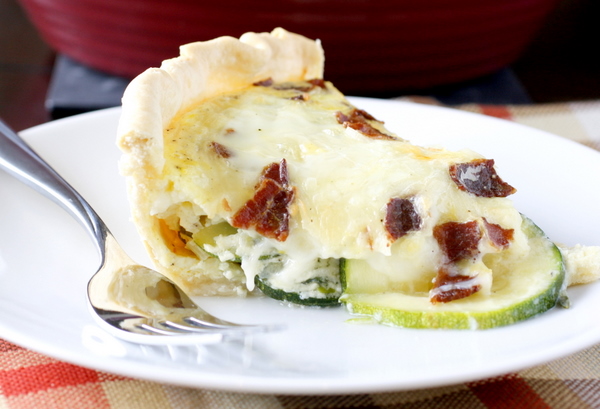 If you've still got zucchini overflowing from your garden, this is the perfect time to make this lightened up quiche recipe.  I made this for a Saturday lunch a few weekends ago and Mike and I both really enjoyed it. I love fresh zucchini, and the addition of bacon, shallots, and mozzarella cheese made it even better. Like any quiche, this is a little time consuming to prepare because you've got to bake the crust and let it cool before assembling the quiche. But if you have some free time on a Saturday morning, like I did, the end result is totally worth the effort. We reheated the leftovers in the oven the following day after church for a quick lunch, and it was just as good the second day. Plus, you'll notice this recipe comes from Cooking Light, so not only does it taste good, but it's pretty healthy too!  Since our zucchini harvest is starting to run a bit low, I might try this same recipe with broccoli next!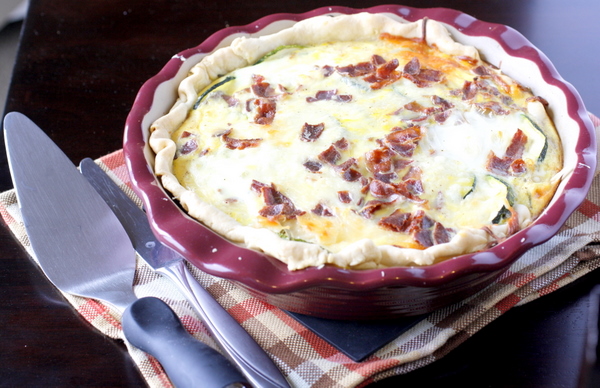 Zucchini Bacon and Mozzarella Quiche
Ingredients:
Crust:
6 3/4 ounces all-purpose flour (about 1 1/2 cups)
1/2 teaspoon salt
3 tablespoons chilled unsalted butter, cut into small pieces
2 tablespoons vegetable shortening, cut into small pieces
1/4 cup ice water
Cooking spray
Filling:
1 tablespoon extra-virgin olive oil
4 cups (1/8-inch-thick) slices zucchini (or use half zucchini, half yellow squash)
1/4 cup chopped shallots
1 tablespoon chopped fresh thyme
1 cup 2% reduced-fat milk
3/4 teaspoon salt
1/4 teaspoon freshly ground black pepper
4 slices center-cut bacon, cooked and crumbled
3 large egg whites
3 large eggs
3/4 cup (3 ounces) shredded part-skim mozzarella cheese
Directions:
For the crust: Combine flour and 1/2 teaspoon salt in a food processor, and pulse until combined. Add butter and shortening; pulse 4 times or until mixture resembles coarse meal. With food processor on, add ice water through food chute, processing just until the mixture is combined (do not form a ball). Press mixture into a 4-inch circle on plastic wrap, and cover. Refrigerate for 1 hour.
Preheat oven to 400°.
Slightly overlap 2 sheets of plastic wrap on a slightly damp flat surface. Unwrap and place chilled dough on plastic wrap. Cover dough with 2 additional sheets of overlapping plastic wrap. Roll dough, still covered, into a 12-inch circle. Place dough in freezer 5 minutes or until plastic wrap can easily be removed. Remove top sheets of plastic wrap, and fit dough, plastic wrap side up, into a 9 1/2-inch deep-dish pie plate coated with cooking spray. Remove remaining plastic wrap from dough. Fold edges under, and flute. Pierce bottom and sides of dough with fork. Bake at 400° for 15 minutes. Cool on a wire rack.
Reduce oven temperature to 350°.
For the filling: Heat a large nonstick skillet over medium-high heat. Add oil to pan; swirl to coat. Add squash, zucchini, shallots, and thyme; saute for 5 minutes or until squash and zucchini are tender, stirring frequently. Cool the squash mixture slightly.
Combine 1 cup reduced-fat milk and the next 5 ingredients (through eggs) in a large bowl, stirring with a whisk. Arrange squash mixture evenly over crust, and sprinkle with 3/4 cup mozzarella cheese. Pour the egg mixture over cheese. Bake at 350° for 45 minutes or until filling is set. Cool for 15 minutes on a wire rack. Serve warm.
from Cooking Light, July 2011