Pumpkin Cupcakes with Maple Cream Cheese Frosting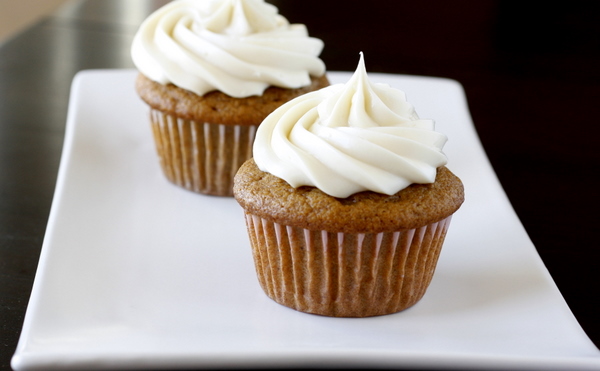 I'm eating one of these pumpkin cupcakes as I type this post, and I can't come up with too much to say other than "Yum"! 🙂 I love any and all pumpkin baked goods, and these cupcakes are no exception!
Mike and I both loved these cupcakes and they're perfect for this time of year. The cupcake part is perfectly light and fluffy with lots of cinnamon-y pumpkin flavor. It's actually really good all on it's own!
The cream cheese icing, however, is definitely worth the extra work. It is sweetened with maple syrup and ended up being very soft and fluffy. The cream cheese/maple combination was absolutely perfect when paired with the pumpkin cupcakes.
I made these for a church potluck, and after Mike tasted one, he really had a hard time giving the rest of them away. Lucky for him, there were a few left over and he ended up with a second cupcake. 🙂
If you're looking for a fun fall dessert, these would be a great choice – just be aware that you may want to keep them all for yourself!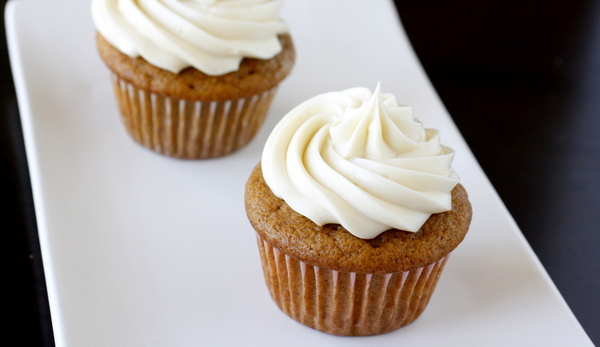 Pumpkin Cupcakes with Maple Cream Cheese Frosting
Ingredients:
1 stick unsalted butter
1 cup firmly packed dark-brown sugar
1/3 cup granulated sugar
2 cups cake flour
2 teaspoons baking powder
1 teaspoon baking soda
1 teaspoon ground cinnamon
1 teaspoon ground ginger
1/2 teaspoon ground nutmeg
1/8 teaspoon ground cloves
1/2 teaspoon salt
1/4 teaspoon freshly ground black pepper
2 large eggs
1/2 cup buttermilk mixed with 1 teaspoon vanilla
1 1/4 cups canned solid-pack pumpkin
Frosting:
Two (8-ounce) packages cream cheese, softened
1 stick unsalted butter, room temperature
2 cups confectioners' sugar
1/4 cup pure maple syrup
Directions:
For the cupcakes: Preheat the oven to 350° (175°C). Line a cupcake pan with 18 liners.
In a stand mixer, beat the butter and sugars on medium speed until fluffy, about 5 minutes. Meanwhile, sift the flour, baking powder, baking soda, cinnamon, ginger, nutmeg, cloves, salt, and pepper into a medium bowl. Add the eggs 1 at a time to the mixer, scraping down the sides after each addition. Alternate adding the flour and milk mixtures, beginning and ending with the flour. Beat in the pumpkin until smooth. Scoop the batter among the cupcake liners — you're looking to get them 3/4 full. Rap the filled pans once on the counter to release any air bubbles. Bake the cakes until a toothpick inserted into the center comes out clean, about 20 to 25 minutes. Cool the cupcakes on racks completely.
For the frosting: In a stand mixer beat the butter and cream cheese until smooth. Add the rest of the ingredients and beat on medium until fluffy.
*This recipe also works beautifully as a layer cake. To make a slightly stiffer frosting that holds up better on a cake, add an extra stick of butter and reduce the cream cheese to 1 1/2 packages.