Frosted Cookie Cups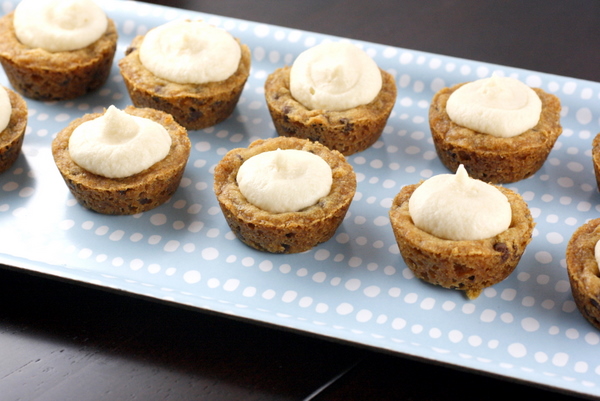 How cute are these frosted cookie cups?? They are little cupcake shaped chocolate chip cookies topped with creamy buttercream frosting. It really doesn't get much better than this! I originally saw this idea on Kevin and Amanda, and as soon as I saw Amanda's post, I was reminded of a treat I used to love when I was little. In the middle of the mall by my house growing up, there was this little cookie stand that I loved. It was so fun to walk past it and look at all the treats (and of course ask for one every single time we were there!).  My favorite treat was always the giant cookie sandwiches – 2 large cookies with buttercream icing in between. There is just something about cookies and icing (sugar and more sugar!) that goes perfectly together. And these frosted cookie cups are even better than those cookie sandwiches I used to love. The cookie part is soft and chewy, and when you bake them, they develop the perfect little dip in the center that is just asking to be filled with icing. The end result is cute and delicious and I'm pretty sure I will be making these many times in the future!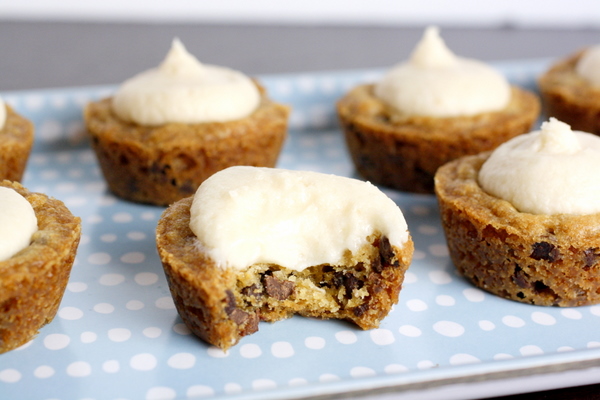 Frosted Cookie Cups
Ingredients:
Cookie Cups:
2 1/4 cups all purpose flour
1 tsp baking soda
1 tsp salt
1 cup butter flavored shortening
3/4 cup granulated sugar
3/4 cup packed brown sugar
1 tsp vanilla
2 large eggs
1 Tbsp water
2 cups mini chocolate chips
Frosting:
1 stick (1/2 cup) butter, softened
3 cups powdered sugar
2-4 Tbsp milk or cream
1 teaspoon vanilla extract
Directions:
For the cookie cups: Preheat oven to 325. Spray 40-48 mini muffin tins with nonstick spray and set aside.
In a medium bowl stir together the flour, baking soda and salt and set aside. In a large bowl, beat together the shortening, granulated sugar, brown sugar and vanilla until creamy. Beat in the eggs, one at a time, then beat in the water. Add the flour mixture gradually, beating to combine. Stir in the chocolate chips. Spoon the dough into the mini muffin tins until 2/3 full. Bake 6-8 minutes, or until the tops just turn golden brown. Cool in tins for 5 minutes, then remove to a cooling rack to cool completely.
For the frosting: In a large bowl, beat together the butter, sugar and vanilla. Beat in the milk or cream, a little at a time, until the frosting is the desired consistency. Spoon frosting on top of cookie cups.