Roasted Chicken with Creamy Cheddar Rice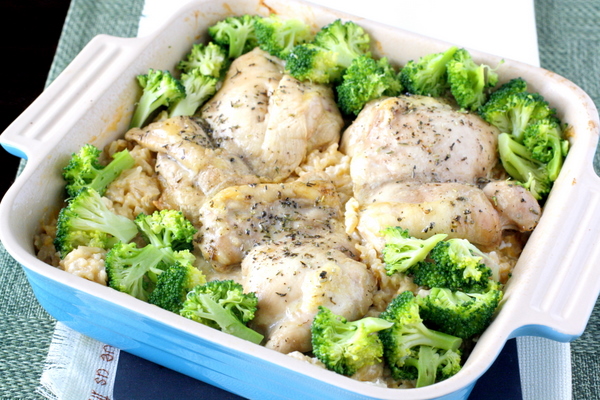 Back when Mike and I were dating and in the "get to know each other" stage, he asked me who I was more like, my mom or my dad. I answered that I was more like my dad with such certainty that Mike was surprised and asked why I thought that. Immediately and without thinking I replied: "We both have a fear of uncooked chicken." While that is certainly true, Mike found it extremely funny and we joke about it to this day. I try to remind him of the humor in the situation when I realize yet again that I've overcooked our dinner in the quest to avoid salmonella.
I mention that incident only because one of the things that set this meal apart was that I did not overcook the chicken. There are plenty of other positives about this meal – I will be making the creamy cheddar rice again and again, but the juicy and flavorful chicken was definitely the star of the show. This was a fairly simple meal with minimal clean-up as well. Mike requested that we make this part of our weekly menu, which I'm pretty sure means he liked it. 🙂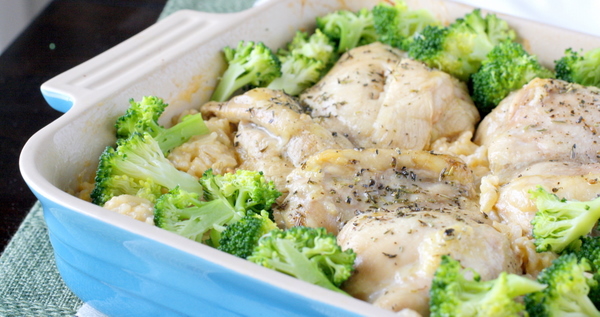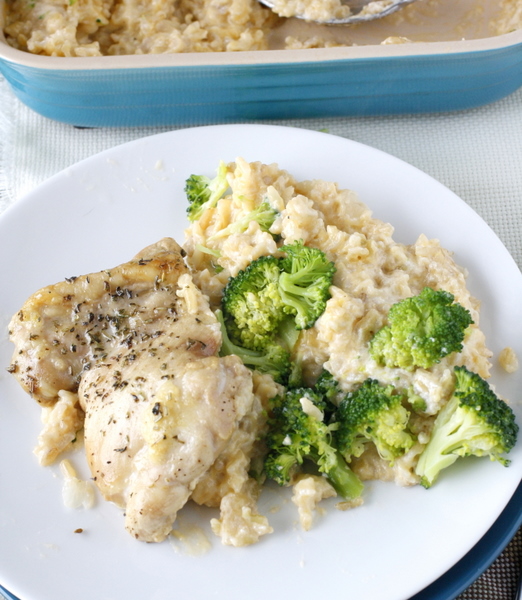 Roasted Chicken with Creamy Cheddar Rice
Ingredients:
1 cup brown basmati rice
3 tsp olive oil, divided
1/2 cup chopped yellow onion
2 cups water
3/4 tsp salt
4 medium boneless skinless chicken thighs
salt and pepper
1 tsp Italian seasoning
4 oz sharp cheddar cheese, grated
1/2 cup sour cream
steamed fresh broccoli
Directions:
Preheat oven to 375. Place uncooked rice in an 8 inch square pan and set aside.
In a medium saucepan, warm 2 tsps of oil over medium heat. Add onion and cook, stirring, until tender, about 3 minutes. Add the water and salt to the saucepan and bring to a boil. Pour over the rice in the pan and cover tightly with foil. Place on the middle rack of the oven and bake for 45 minutes.
Meanwhile, line a baking sheet with aluminum foil and spray lightly with cooking spray. (Make sure to use a baking sheet with sides to catch the juices!) Place the chicken thighs on the baking sheet and brush lightly with olive oil and sprinkle with salt, pepper and Italian seasoning.
When the rice has baked for 45 minutes, place the chicken on the upper rack of the oven. Continue baking 15 minutes, or until rice is tender. Leave the chicken in the oven, remove the rice, and stir in the cheddar and sour cream. Recover loosely with foil and return to the oven. Bake for 10-15 minutes longer, or until the chicken is lightly browned and cooked through. Stir the steamed broccoli into the rice, or serve alongside.