Spicy Roasted Cauliflower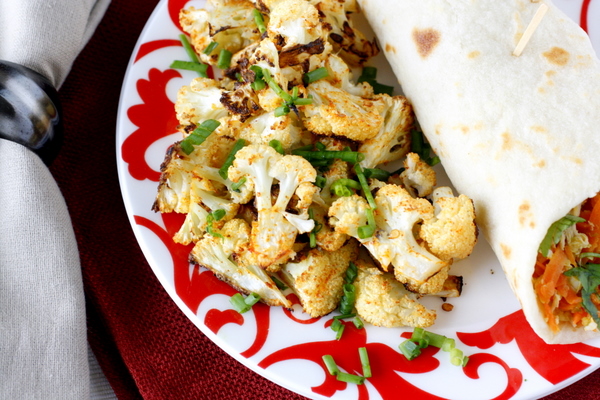 Let me introduce you to a fun new way to eat cauliflower! I used to think I didn't like cauliflower until I tried roasting it. We've been eating it that way for a few months and I love the crispy almost popcorn like quality you get from roasting it. Then, last week, I was inspired by a recipe in Food Network Magazine to add a little spice. This spicy roasted cauliflower is so good that I couldn't stop eating it! It's hot and crispy and full of flavor. I've made it twice already and I'm sure it will appear many more times before the cold weather is over. Feel free to play around with the seasonings as well, until it's just how you want it.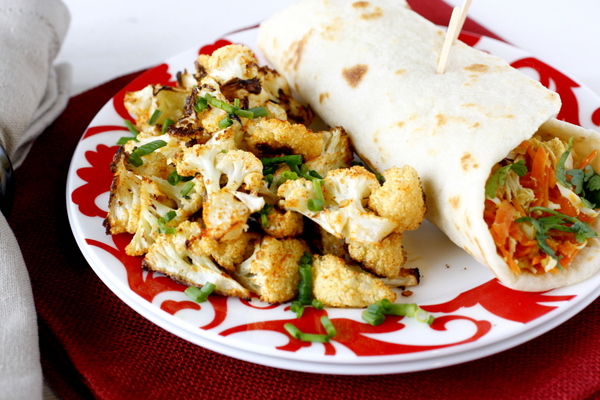 Spicy Roasted Cauliflower
Ingredients:
1 head cauliflower, cut into bite-size florets
1 Tbsp olive oil
1 tsp cumin
1/2 tsp red pepper flakes
1/2 tsp kosher salt
ground black pepper
Chopped fresh chives, for sprinkling
Directions:
Preheat the oven to 425. In a small bowl, combine the cumin, red pepper flakes and salt. Line a baking sheet with aluminum foil and spray lightly with cooking spray. Spread the cauliflower florets on the baking sheet and toss with the spice mix. Drizzle the olive oil on top and toss to coat evenly. Bake for 20 minutes, then stir. Bake for 5-10 minutes longer, or until brown and crispy. How long they take to roast depends on what size you cut the florets. Taste and adjust seasonings as necessary. Sprinkle with chopped chives before serving.
adapted from Food Network Magazine