Chocolate Cloud Frosting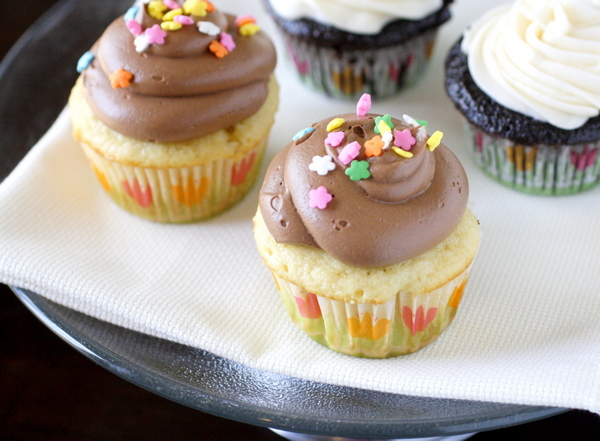 I have been in a cupcake mood recently! Most of you don't know this, but I actually have a little side business selling cupcakes in Grand Rapids! My cupcake business is called Morning Glory Sweets and I have been hard at work coming up with my favorite flavors to include. This chocolate cloud frosting is definitely a new favorite. I've made it quite a few times in the past few weeks and I love it! It's so smooth and creamy, and it really is very light – just like a chocolate cloud of frosting. I originally found the recipe from Sweetapolita (she's got some amazing cakes over there!) when she posted a nutella cloud frosting. I've made it with the nutella, and without, and it's great both ways. For a classic chocolate frosting, however, you can't go wrong with this one!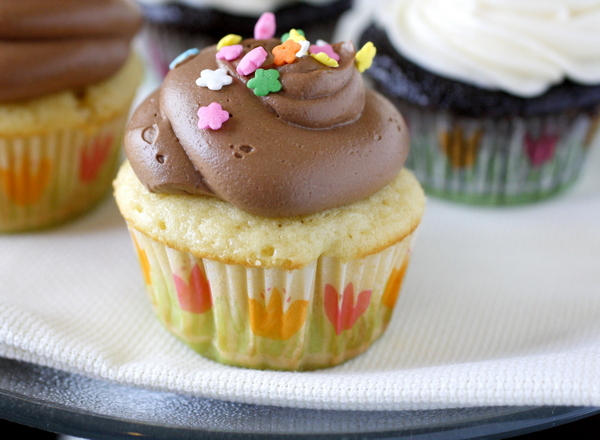 Chocolate Cloud Frosting
Ingredients:
1 cup unsalted butter, softened
1 1/2 cups (7 ounces) confectioners' sugar
2 teaspoons pure vanilla extract
3/4 cup (4 ounces) bittersweet chocolate, melted and cooled slightly
1 tablespoon heavy whipping cream
pinch of salt
Directions:
Combine the butter and confectioners' sugar in a bowl of stand mixer and beat on medium-low speed until well combined, about 1 minute. Add the vanilla and chocolate and beat on medium speed until smooth, about 2 minutes. Add the cream and a pinch of salt and beat on medium-high speed until smooth and creamy.
*Note: To make Nutella frosting, beat in 1/3 cup Nutella with the cream and salt.