Chicken and Sugar Snap Pea Stir-Fry
I have been waiting for months to make this recipe. I found it in Cooking From the Farmer's Market (and yes, that is still my current favorite cookbook!) last Winter and have been waiting for Spring/Summer to try it! My mom was visiting this past weekend and since she likes stir-fry as much as I do, that seemed like the perfect time to try it. And let me tell you, this will make it into our regular rotation. The snap peas are so sweet and they stay nice and crisp, adding a great crunch to the dish. The chicken is flavored with the peanut oil and oyster sauce and tastes great. (Side note: this was my first time using oyster sauce and it turns out it is actually made from oysters. I'm not sure why this surprised me, but it did make me a little nervous. Thankfully the end result tasted nothing like oysters). In short, this meal takes about 15 minutes of hands on time, is fresh and flavorful, and reheats wonderfully. It's definitely a keeper!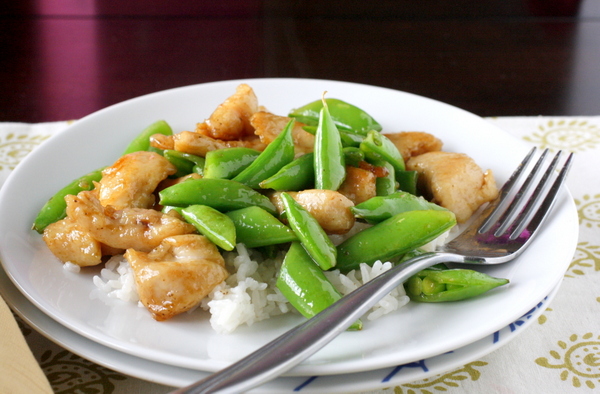 Chicken and Sugar Snap Pea Stir-Fry
Ingredients:
1 lb skinless, boneless chicken breast halves, cut crosswise into thin strips
3 1/2 Tbsp peanut oil
1 tsp baking soda
2 tsp cornstarch
salt
1 Tbsp oyster sauce
3/4 lb sugar snap peas, halved crosswise on the diagonal
cooked white rice, for serving
soy sauce, for serving
Directions:
In a bowl, toss the chicken strips with 1 1/2 Tbsp of the peanut oil, the baking soda, and the cornstarch. Cover and let marinate in the refrigerator for 1 hour. Remove from the refrigerator 15 minutes before cooking.
Heat a wok or large frying pan over high heat. Add the remaining 2 Tbsp oil. When it is hot, add the chicken, and turn the heat down to medium-high. Spread the chicken out as much as possible, season with salt, and sear for 1 minute without stirring. Then stir until opaque throughout, 2-3 minutes. Stir in the oyster sauce and cook for 30 seconds. Transfer to a bowl and set aside.
Return the wok to high heat, add the peas, and stir-fry until crisp-tender, about 1 minute. Stir in the chicken and stir-fry for 30 seconds. Transfer to a platter and serve right away with rice and soy sauce.
*Note: Amazon links are affiliates