Top 10 Ways to eat Kale (and other leafy greens)
This post is as much for me as it is for you.  Now that the summer vegetable season is almost upon us, I really need to get better at eating more vegetables – especially leafy green vegetables. And since everyone always talks about how good kale is for you, I figured I would start there and branch out. I haven't tried all of these suggestions, but I want to! I figure, if by the end of the summer I've tried to eat kale (or other leafy greens) in all the ways listed here, I'll be doing pretty good! 🙂
Top 10 Ways to eat Kale (and other leafy greens)
1. Salad (I'll list the obvious one first).  I would like to try adding some raw kale (in small amounts) into my salads.  I love Spinach salad, and salad made with other mixed greens, and I try to eat at least a few a week. I actually have a bowl of mixed greens growing on my front porch (picture above) which encourages me to eat more salad. Also, I love to put goat cheese and homemade croutons in my salad, which will make pretty much anything taste good. 🙂 (Here is a salad containing Kale that got good reviews.)
2. Smoothies. I love smoothies, and I've learned that you can add a handful of spinach to give a nutrient boost without affecting the taste. You can do this with Kale as well, but I think it affects the taste a little more, so start small and work your way up.
3. Soups. This probably isn't the best idea for summer, but I figure there's always a few cool days where you wouldn't mind eating soup. Kale is wonderful in soups because it keeps its texture more than most greens. (Try this one, it's great! And if you don't want to try it, at least click over to the recipe to laugh at my old and terrible pictures).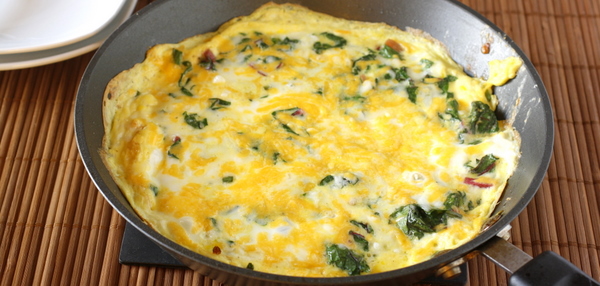 4. Frittata – I made this frittata with swiss chard, which is wonderful, but you could definitely do it with kale, or other greens.
5. Omelets. This is similar to the frittata idea, but I love to saute random vegetables, spinach and kale included, and add them to the inside of omelets.
6. Kale Chips. This is one I haven't tried, but everyone seems to say they are good!
7. Massaged Kale Salad – Again, not one I've tried, but I'm intrigued by it.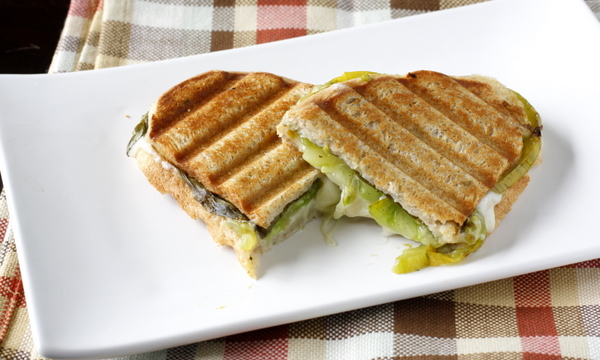 8. Grilled Cheese/Paninis. This one is kind of random, but I'm operating under the assumption that anything tastes good with bread, butter and cheese. Last year, to use up some of my many CSA greens, I started sauteeing some in some olive oil and adding it to my grilled cheese sandwiches and paninis. The swiss chard was great, but I did try some sort of random bitter greens that were terrible. I haven't tried Kale yet, but it's on my list.
9. Stir-Fry. I did this many times last year with bok choy and loved it. Again, I haven't tried it with Kale, but with the way Kale tends to keep it's texture when cooked, I think it would work great.
10. Pesto. I had no idea that Kale could be used in pesto until I tried the pasta with kale and walnut pesto that I posted recently. I loved it, and I'm already thinking up new ways to put that pesto to good use.
I hope this helps. Please leave any more ideas in the comments – I'd love to know how you eat kale! 🙂