Blueberry Buttermilk Bread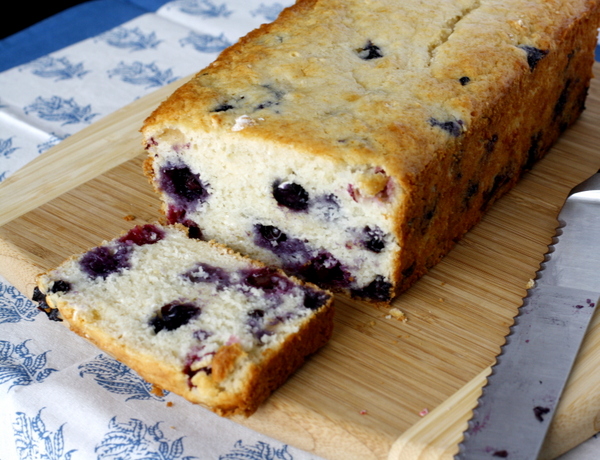 Another blueberry recipe for you! I have the same problem every season. As soon as a certain season hits, like blueberry season, I go crazy trying all kinds of fun new recipes. And then I am always pressed for time trying to get all the new recipes posted before the season ends and you don't want to make them any more! Hopefully you still have plenty of blueberries left, because I've still got recipes to share. 🙂
This blueberry bread is definitely one you'll want to make time for during blueberry season. It basically tastes like a blueberry muffin in bread form. The recipe produces a dense, moist bread that is filled to the brim with fresh bursting blueberries. It doesn't taste overly sweet, which means you won't feel too guilty eating this for breakfast. It's a fairly simple quickbread, and the perfect vehicle for fresh in-season blueberries to shine! Enjoy 🙂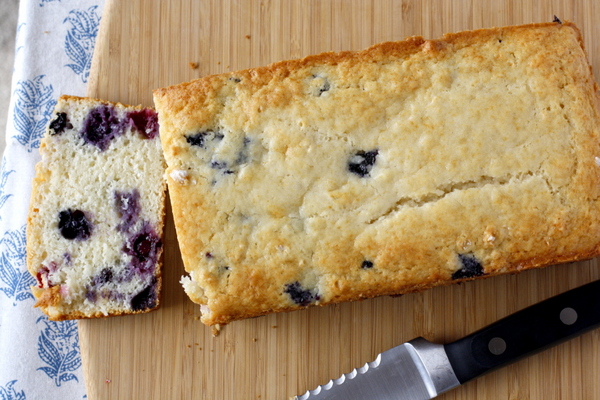 Blueberry Buttermilk Bread
Ingredients:
2 cups all-purpose flour
1 Tbsp baking powder
1/2 tsp salt
1 large egg
1 cup sugar
4 Tbsp unsalted butter, melted and cooled slightly
1 1/4 cups buttermilk, well-shaken
2 tsp vanilla
1 1/2 cups frozen or fresh blueberries
Directions:
Pre-heat the oven to 350. Grease an 8 1/2 x 4 inch loaf pan and set aside.
Whisk the flour, baking powder and salt in a medium bowl until combined. In a separate medium bowl, whisk the egg until well-combined and light colored, about 20 seconds. Add the sugar and whisk vigorously until thick and homogoenous, about 30 seconds. Add the melted butter in 2-3 additions, whisking to combine after each addition. Add the buttermilk in 2 additions, whisking just to combine, then whisk in the vanilla.
Add the berries to the dry ingredients and gently toss just to combine. Add the buttermilk mixture and fold with a rubber spatula until the batter comes together and the berries are evently distributed. Be careful not to overmix.
Transfer the batter to the prepared loaf pan. Bake until the top is light golden brown and a toothpick comes out clean, 50-60 minutes.
adapted from Baking Illustrated