Mini Fruit Pizzas
I couldn't let the 4th of July come and go without posting  some sort of patriotic treat.  I'm cutting it a little close on this one, but hopefully if you're still looking for a fun dessert for the 4th, you'll have time to make this one. I love traditional fruit pizza (who doesn't??), but these mini versions are just so cute!  Basically, these mini fruit pizzas are just simple sugar cookies covered in a cream cheese "sauce" with various types of chopped fruit as a topping. I covered mine with blueberries and strawberries to give them a red, white and blue theme, but you could use any fruit that you want.  They taste amazing and are sure to be a hit with adults and kids alike. Plus, if you're having a picnic or cook-out, these would be so fun to set out as a "make your own" station. Stack the cookies up on a plate, set out a bowl of the cream cheese topping, and set out various bowls of chopped fruit. Then people can build their own with the fruit that they like, and it keeps the cookies from getting soggy as they sit.  No matter how you serve these, they are sure to taste great. 🙂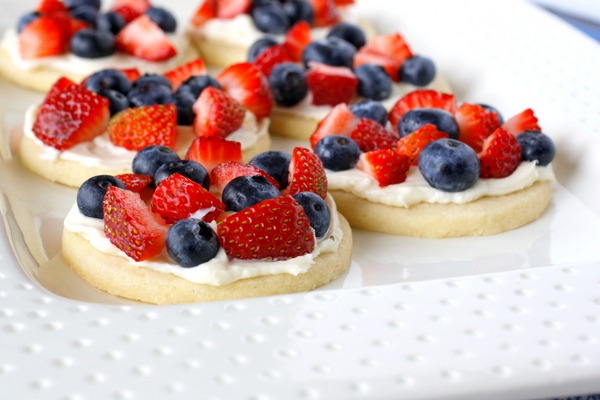 *If you're looking for other dessert ideas, try one of these! 🙂 Patriotic Brownie Skewers :: Strawberry Pretzel Dessert :: Red Velvet Brownies
Mini Fruit Pizzas
Ingredients:
Cookies
3/4 cup unsalted butter, softened
1 cups Sugar
1 whole Egg
1 Egg Yolk
1 Tbsp vanilla extract
2 cups All-purpose Flour
1/2 teaspoon Salt
1/2 teaspoon Baking Powder
Topping:
1 pkg.(8 oz.) Cream Cheese, softened
1/4 cup sugar
1/2 tsp. vanilla
assorted fresh fruit, for topping
Directions:
For the cookies:
Place the butter and sugar in the bowl of a stand mixer and beat until well combined, about 2 minutes. Add in the eggs, yolks and vanilla and mix until combined.
In a separate bowl, sift together the flour, salt, and baking powder. Slowly add flour to the butter mixture and mix until combined. Do not overmix. Transfer the dough to saran wrap and wrap well. Refrigerate for at least one hour.
When you are ready to bake, pre-heat the oven to 350 degrees. Roll the dough out to 1/2 inch thickness, cut out cookies, and place on a parchment lined baking sheet. Bake for 9-10 minutes or until cookies are set and just starting to brown around the edges.
For the topping:
Beat cream cheese, sugar and vanilla with mixer until well blended.
Spread over cookies and top with fresh fruit.