Soft Peanut Butter Chocolate Chunkers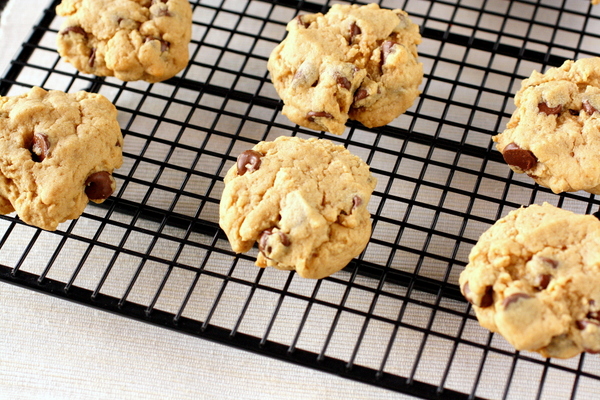 You really can't go wrong with the combination of chocolate and peanut butter! These cookies are soft pillow-like peanut butter cookies that are chock full of melty chocolate chips. And they're absolutely delicious. The cookie just melts in your mouth and stays unbelievably soft after baking. I expected to like these when I made them, but I was surprised at just how much I loved them. I took them in to work for birthday treats and they disappeared much more quickly than I was prepared for. Thankfully I had saved one in my lunchbox or I wouldn't have gotten any! If you're a fan of peanut butter and chocolate together, I definitely recommend trying these soft peanut butter chocolate chunkers – you'll love them. 🙂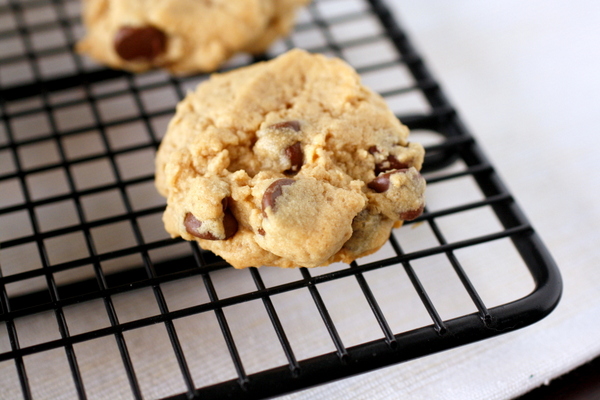 Soft Peanut Butter Chocolate Chunkers
Yield: Makes 4 dozen cookies
Ingredients:
3/4 cup (1 1/2 sticks) unsalted butter, softened
1 cup creamy peanut butter
1 cup packed light brown sugar
2 large eggs
1 tsp vanilla extract
1/4 cup milk
2 1/2 cups all-purpose flour
1 tsp baking soda
1 tsp salt
2 cups semisweet chocolate chips
Directions:
Preheat oven to 375. Line 2 baking sheets with parchment paper. In a large bowl or stand mixer, cream together the butter, peanut butter, and brown sugar until smooth. Beat in the eggs, then stir in the vanilla and milk.
In a separate bowl, cobmine the flour, baking soda, and salt. Stir the flour mixture into the creamed mixture until just blended. Mix in the chocolate chips.
Drop by the tablespoonful on baking sheets 2 inches apart. Press each drop lightly with your hand or spatula. Bake for approximately 10 minutes. Cookies should have a golden brown color on the top and bottom. Remove from the oven and cool on the pan for at least 5 minutes beore moving them to a rack to finish cooling.
from the Spring 2010 King Arthur Flour Baking Sheet