BLT Sandwich Salad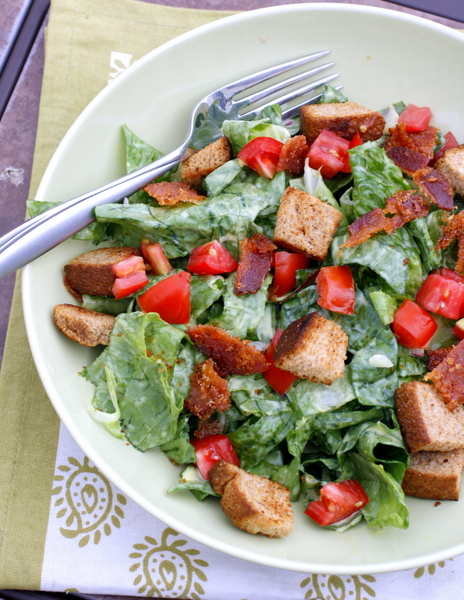 This is one of the best salads I've ever eaten. And actually, Mike declared that it was, in fact, the best salad he'd ever eaten! So really, that's all the endorsement you need, right? 🙂 I've had this recipe for BLT Sandwich Salads in my "to make" pile for about a year. I have no idea what took me so long to make it, but it was definitely worth the wait. As you can guess from the name, it tastes like a BLT sandwich, but in salad form. Actually it tastes even better than the sandwich because of all the little extras thrown in. The bacon has a nice layer of brown sugar and spice caramelized on it, the croutons are freshly toasted on the stove, and the dressing is a combination of seemingly simple ingredients turned into something amazingly delicious. Add it all together, and this is one salad we couldn't stop eating.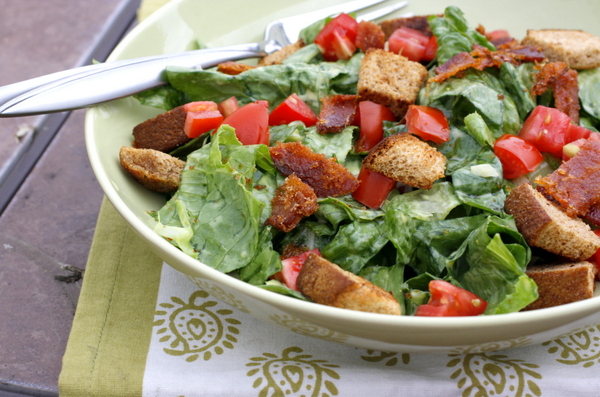 BLT Sandwich Salad
Ingredients:
For the salad:
1 head romaine lettuce, thinly sliced (about 6 cups)
1/2 cup chopped red onion
3 Roma tomatoes, seeded and chopped
4 slices white bread
1 tablespoon unsalted butter
For the bacon:
1/4 cup packed light brown sugar
1 teaspoon paprika
Grated zest of 1 lemon
1 teaspoon black peppercorns, crushed in a bag with a mallet
6 strips center-cut bacon
6 sprigs fresh thyme
For the dressing:
1/2 cup mayonnaise
1 to 2 tablespoons maple syrup
4 teaspoons whole-grain mustard
1 tablespoon fresh lemon juice
Directions:
Preheat the oven to 350 degrees F. Combine the lettuce, onion and tomatoes in a large bowl; set aside.
Meanwhile, cut the bread into crouton-size cubes. Melt the butter in a skillet over medium heat. Add the bread cubes and toast, tossing, until golden, about 6 minutes. Set aside to cool.
Make the bacon: Mix the brown sugar, paprika, lemon zest and crushed pepper in a small bowl. Add the bacon and press to coat on both sides. Line a baking sheet with parchment paper; place the thyme sprigs on the parchment paper, then lay a strip of bacon on top of each sprig. Bake until the bacon is caramelized and crisp, about 20 minutes. Let cool slightly on the baking sheet. Cut the bacon into bite-size bits using scissors; add to the bowl with the lettuce. Discard the thyme.
Make the dressing: Whisk the mayonnaise, syrup, mustard and lemon juice in a medium bowl. Add the dressing to the salad and toss. (You may not need to use all of the dressing.) Sprinkle the croutons on top and serve immediately.
from Food Network Magazine, October 2011