Cheesy Zucchini Bake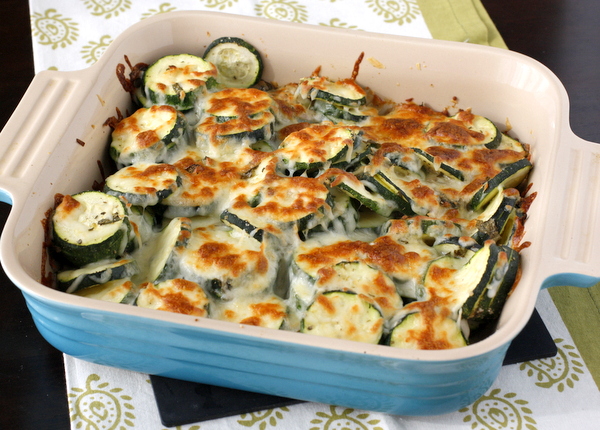 Hopefully I'm posting this in time to hit the tail end of zucchini season for most of you! My zucchini plants are basically dead, but since I am quite possibly the worst gardener ever, that doesn't necessarily mean anything. This is a wonderfully easy recipe that makes the most of fresh in-season zucchini. If you want, you could also substitute yellow squash for half of the zucchini in this recipe.
The zucchini is paired with fresh basil, two kinds of cheese and some flavorful herbs to create a wonderful cheesy casserole. And seriously, the main ingredient is a vegetable, so it's healthy! The leftovers taste great re-heated as well, which officially makes this dish a new favorite 🙂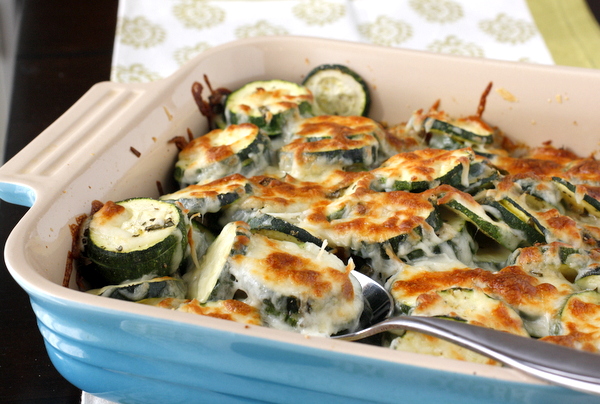 Cheesy Zucchini Bake
Ingredients:
4 medium-sized zucchini, halved lengthwise and sliced
2-4 T chopped fresh basil
2 T thinly sliced green onion
1/2 tsp. dried thyme
3/4 tsp. garlic powder
1 cup mozzarella cheese, divided
1/2 cup coarsely grated Parmesan
salt and fresh ground black pepper to taste
Directions:
Preheat oven to 350. Spray a square baking dish non-stick spray.
In a large bowl, combine the zucchini, basil, green onions, thyme, garlic powder, 1/2 cup of mozzarella, and the 1/2 cup of Parmesan. Stir together until the zucchini is well coated, then season with salt and pepper. Transfer the zucchini to the baking dish and bake uncovered for 25-30 minutes or until the zucchini is nearly cooked through.
Sprinkle the remaining 1/2 cup of mozzarella and bake 10-15 minutes longer, or until the cheese is melted and zucchini is fully cooked. If the cheese isn't browning on top, turn the oven to broil for the last few minutes of cooking time. Serve immediately.