Crockpot Barbecued Chicken Legs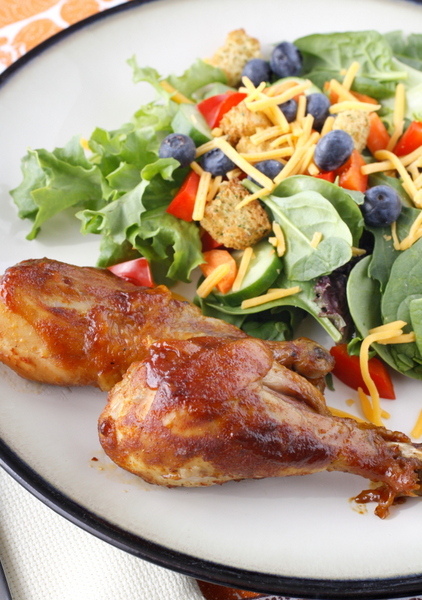 You are going to love this slow cooker barbecue chicken! This is just about the easiest barbecue chicken you'll ever make, but you'd never know it from how good it tastes!
I'm a big fan of using the crock pot in the summer, rather than heating up the oven, and that makes this meal just about perfect. (We eat it in the winter too, when it's way too cold to grill outside!)
You can certainly make delicious barbecue chicken outside on the grill, but sometimes you just want dinner to be ready to go when you get home from work. On those nights, this is the meal for you.
The chicken is juicy and flavorful, and the meat is incredibly tender from being slow cooked all day. Occasionally we eat the chicken straight out of the crockpot, but if you follow the directions and use the broiler for a few minutes you'll get that crispy skin that makes barbecue chicken taste even better.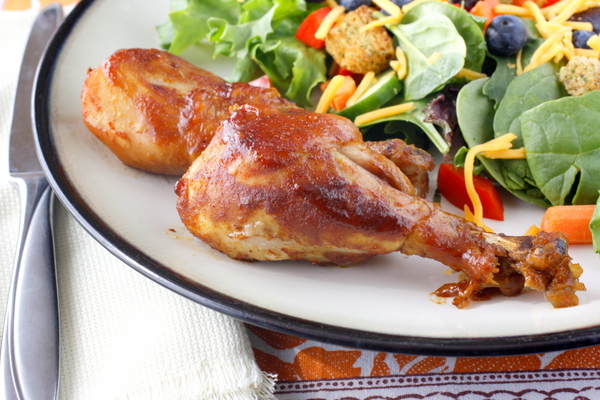 This is one of Mike's new favorite meals, which means it's one that I've made over and over again. It comes out perfectly every time.
I love to buy one of those big family packs of chicken legs when they're on sale and cook a bunch at once. Then I used the leftovers for barbecue chicken salad, quesadillas, pizza, etc. This recipe is definitely a keeper, and I hope you think so too! 🙂
Looking for more amazing crock pot recipes?  Check them out on my recipe page!
Crockpot Barbecued Chicken Legs
Ingredients:
1 Tbsp brown sugar
1 Tbsp sweet paprika
1 tsp dry mustard
1 tsp ground cumin
1 tsp garlic powder
1 tsp onion powder
1/4 tsp cayenne pepper
salt and pepper
4 pounds bone-in, skin-on chicken drumsticks, trimmed
1 1/2 cups barbecue sauce
Directions:
Mix sugar, paprika, mustard, cumin, garlic powder, onion powder, cayenne, 1 tsp salt, and 1 tsp pepper together, then rub mixture evenly over chicken. Transfer the chicken to the slow cooker. Pour 1/2 cup barbecue sauce over chicken and toss to coat. Cover and cook until chicken is tender, 4-6 hours on low.
Position oven rack 10 inches from broiler element and heat broiler. Place wire rack in foil-lined rimmed baking sheet and coat with vegetable oil spray. Transfer chicken to prepared baking sheet; discard braising liquid.
Brush chicken with 1/2 cup more barbecue sauce and broil until lightly charred and crisp, 10-15 minutes. Flip chicken over, brush with remaining 1/2 cup barbecue sauce, and continue to broil until lightly charred and crisp on second side, 5-10 minutes longer.