Apple Streusel Bread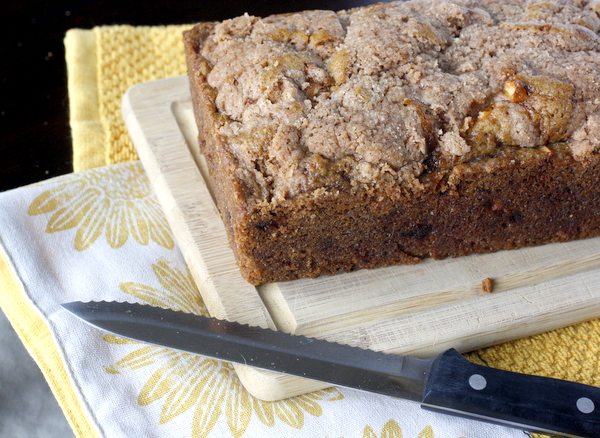 There is not much better than baking with apples in the Fall. It makes your whole house smell like cinnamon and the end result almost always ends up being delicious. That is definitely the case with this apple streusel bread! The bread is moist and tender, and I think you can tell from the picture below that it is completely chock full of apples. But what really takes it over the edge is the streusel topping.  Similar to a crumb topped apple pie, the streusel topping is crumbly and sweet. It really makes this apple bread taste like something special. So if you're looking to enjoy a seasonal treat, give this apple streusel bread a try – we loved it!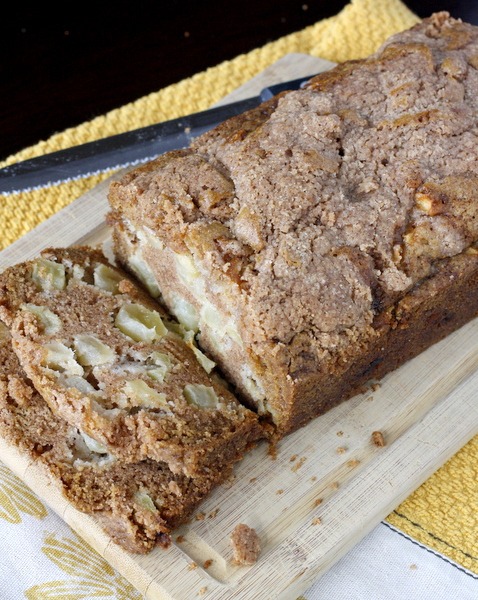 Apple Streusel Bread
Ingredients:
Bread:
4 cups peeled and chopped apples
4 large eggs, beaten
1 cup canola oil
2 tsp vanilla
2 tsp baking soda
2 tsp salt
2 tsp cinnamon
3 cups all-purpose flour
2 cups granulated sugar
Topping:
3/4 cup all-purpose flour
1/4 cup granulated sugar
2 tsp cinnamon
1/2 cup butter, at room temperature
Directions:
Preheat oven to 350. Lightly grease 2 standard loaf pans and set aside.
In a large bowl, beat the eggs with an electric mixer until fluffy. Add the oil and beat until combined. Add the vanilla, baking soda, salt and cinnamon. Beat until thoroughly mixed. Next, add the flour and sugar and mix on low just to blend. Turn the mixer to high and beat until mixture is smooth. The batter will be very thick. Gently fold in the chopped apples. Divide the mixture between the two loaf pans.
For the topping: combine the flour, sugar and cinnamon in a small bowl. Cut the butter into the mixture with a fork (or your fingertips) until all ingredients are moist and crumbly. Sprinkle the topping equally over the two loaf pans and lightly press into the batter.
Bake for 1 hour, or until a toothpick inserted in the center comes out clean. Let cool for 5 minutes before removing from the pan to cool completely.
from The Penzey's Spice catalog