Giant Chewy Oatmeal Chocolate Chip Cookies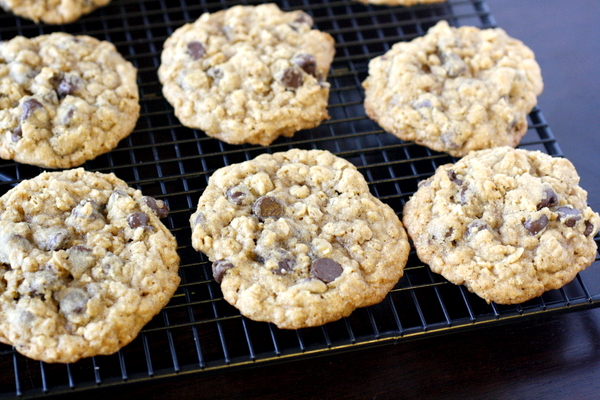 It's not often that I see a recipe and feel compelled to make it immediately. But that's what happened with these cookies! I saw an adaptation of these cookies on Finding Joy in My Kitchen and I knew I needed to make them as soon as possible. Then, I realized they were a copycat recipe for Great Harvest's famous chocolate chip cookies and it was settled – I made them the very next day and now I'm addicted.
If you make these as listed in the recipe, they truly are giant – I cut mine down a little in size so that there were enough cookies to share with Mike's coworkers.  Even better than their size, however is their texture. They turned out to be so perfectly chewy! This is one cookie I couldn't get enough of. I'm thankful that I sent most of them to work with Mike because they certainly wouldn't last long around the house.  I'm going to go out on a limb here and declare these my new favorite cookie. So please try them, and then stop back here and let me know what you thought! 🙂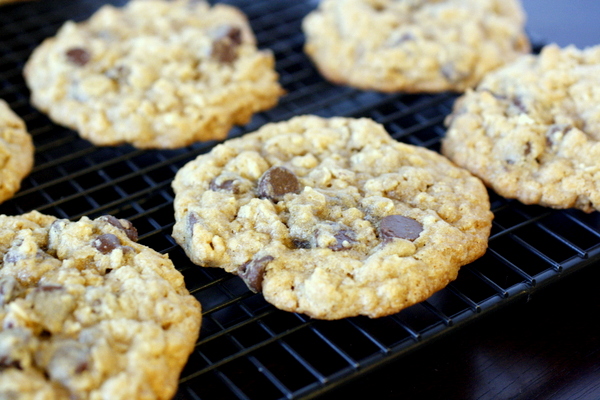 *Note: If you find yours spreading more than you'd like, or becoming crispy, try cutting down a little on the brown sugar. They should be thick and chewy, not thin and crispy.
Ingredients:
2 cups whole wheat flour
1 teaspoon baking powder
1/2 teaspoon baking soda
1/2 teaspoon salt
2 cups brown sugar, packed
1 cup butter, softened
2 cups rolled oats
2 eggs
2 tablespoons molasses
1 tablespoon milk
1 (12 ounce) pkg semisweet chocolate chips
Directions:
Preheat oven to 350 degrees F.
In a medium sized bowl, whisk together the flour, baking powder, baking soda, and salt. Set aside.
In a large bowl, beat together brown sugar and butter until well combined. Add oats, eggs, molasses, and milk and beat well. Add dry ingredients to the butter mixture and mix until blended. Stir in chocolate chips. Using a 1/4 cup measuring cup, scoop dough and drop about 3 inches apart onto ungreased cookie sheets.
Bake at 350 degrees F for 12-14 minutes, or until just starting to brown around the edges. Cool 2 minutes on cookie sheets then remove and cool on racks.