Chocolate Gingerbread Cookies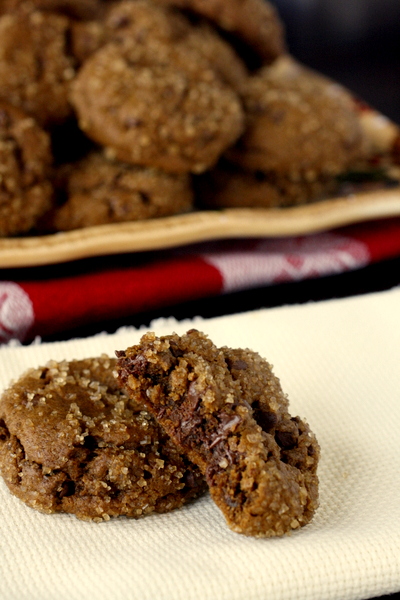 It's just hitting me now how many different types of chocolate cookies I've included in this year's Christmas treats! What can I say, I like chocolate! Plus anything with chocolate in it is generally a crowd pleaser, and I really like it when people eat what I bake. 🙂 Which leads me to these chocolate gingerbread cookies.  These are so good!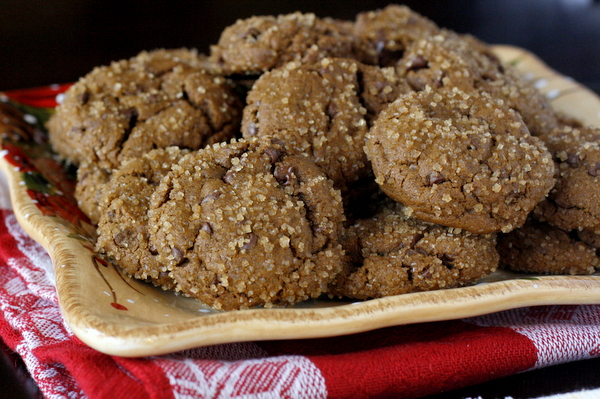 The cookie is thick and soft and chewy, and they really do taste like gingerbread. The addition of chocolate, however, really makes this cookie stand out. The gingerbread flavor is really rich and strong, but the chocolate adds a nice burst of sweetness. The outside is coated in coarse sugar which adds a nice crunch as well.
If you like gingerbread, please make these cookies – you will love them!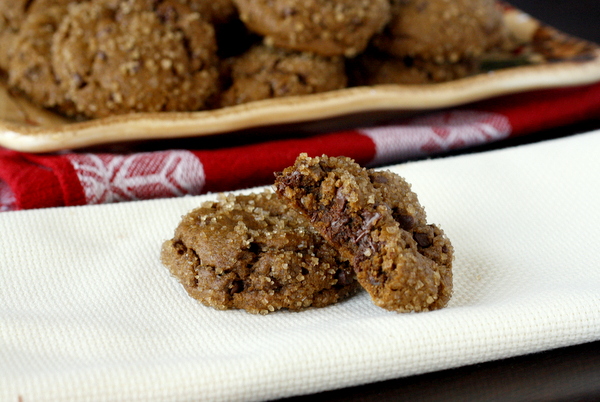 P.S. You can see all of my Christmas treat recipes from over the years at this Christmas Cookies tag. Enjoy! And, as always, let me know if you try any and how you liked them.
Chocolate Gingerbread Cookies
Yield: makes about 30 cookies
Ingredients:
1 3/4 cups All-Purpose Flour
1 teaspoon baking soda
2 teaspoons ground ginger
1 teaspoon ground cinnamon
1/4 teaspoon ground cloves
1/4 teaspoon ground nutmeg
1/2 teaspoon salt
1 tablespoon unsweetened cocoa powder
1/2 cup (8 tablespoons) unsalted butter, at room temperature
1/2 cup packed dark brown sugar
1/2 cup molasses
1 cup semisweet chocolate mini chips
coarse sugar, for rolling
Directions:
Preheat the oven to 325°F. Line two baking sheets with parchment paper. In a medium sized bowl, whisk together the flour, baking soda, spices, salt, and cocoa.
In a separate bowl, beat the butter with the sugar until light and creamy. Add the molasses and beat until combined. Beat in the dry ingredients, then stir in the chips.
Scoop the dough a tablespoon at a time, form into a ball, and roll in the coarse sugar. Bake the cookies for 10 to 12 minutes, until their surface begins to crack. Remove from the oven, cool on the pan for 5 minutes, then transfer the cookies to a rack to cool completely.