Gingerbread Truffles
It just wouldn't be the 12 Days of Christmas treats if I didn't post a truffle recipe. In the past I've posted oreo truffles, nutter butter truffles, and thin mint truffles. And now these gingerbread truffles just might be my favorite out of all of them!
I've always loved the sweet and spicy flavor of gingerbread, and it turns out it's even better in truffle form. The cream cheese cuts the sweetness a little bit, and white chocolate is the perfect coating for the outside. Not to mention, these gingerbread truffles look pretty cute with their crumb topping.
If you're a truffle fan, you've got to try this version – it was definitely a hit around here!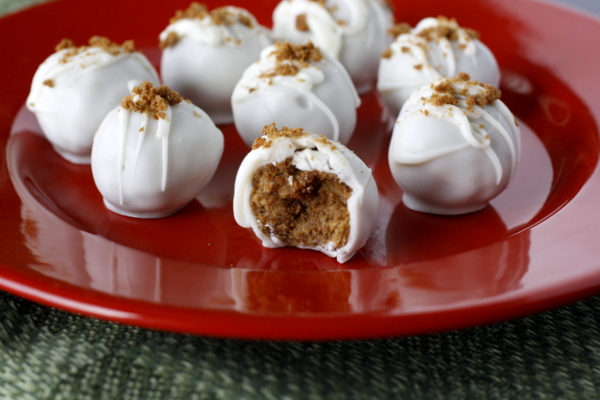 P.S. You can see all of my Christmas treat recipes from over the years at this Christmas Cookies tag. Enjoy! And, as always, let me know if you try any and how you liked them.
Gingerbread Truffles
Yield: Makes about 24 truffles
Ingredients:
1 box Gingersnap cookies (about 50 cookies)
1 8-ounce brick cream cheese, softened
1 teaspoon ground ginger
1 teaspoon cinnamon
white chocolate candy melts
Directions:
Place the cookies, cinnamon and ginger in the food processor and process into crumbs. Reserve 1/4 cup cookie crumbs for decoration.
Mix crushed cookies and softened cream cheese in a large bowl until completely combined (your hands work best for this). Roll into small balls.
Melt white chocolate in the microwave, stirring until smooth. Using a toothpick, dip the gingerbread balls into the chocolate, letting the excess chocolate drip off.
Set the truffles on waxed paper to harden. Drizzle the extra white chocolate over the truffle and sprinkle with reserved cookie crumbs.
Once completely dry, store truffles in the fridge.