Salted Caramel Pretzel Bark
I really don't think you can go wrong with something called Salted Caramel Pretzel Bark. Although, I did my best to mess it up – if you look closely at the pictures you can tell that the caramel part of the bark looks more like a grainy mess than actual caramel.  This was my first time ever making caramel and I definitely got it wrong. I did better the second time I made this, but unfortunately didn't think to re-take the pictures. If you are having trouble with the caramel, watch this video and it should help. 🙂
However… even with grainy caramel, this still tasted amazing!  Seriously – don't be afraid of messing it up because no matter what, it will taste good. I just told people it was supposed to be all sugary and wonderful, and no one questioned it.
If you are big into sweet and salty desserts, you will not be able to stop eating this! Enjoy 🙂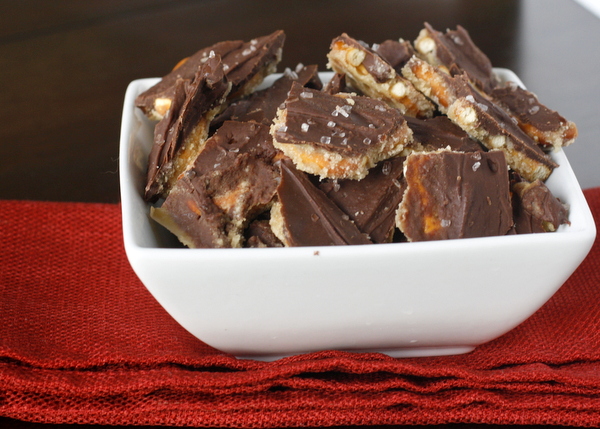 P.S. You can see all of my Christmas treat recipes from over the years at this Christmas Cookies tag. Enjoy! And, as always, let me know if you try any and how you liked them.
Salted Caramel Pretzel Bark
Ingredients:
1/2 bag of mini pretzel twists
2 sticks of butter
1 cup of brown sugar
1 bag of chocolate chips
Sea salt
Directions:
Preheat your oven to 350 degrees. Line a large jelly roll pan with aluminum foil and lay a single layer of pretzels down.
In a medium saucepan, melt the butter and the brown sugar until the sugar is dissolved. Let it boil gently (without stirring) just until it starts to stick to the bottom and it forms a nice smooth caramel. Let it bubble a little and get really thick.(If this confuses you, try watching this video. The instructions are a little different, but it seems to work)
Remove from heat and pour evenly over the top of the pretzels. Put in the oven for five minutes. Remove from the oven and sprinkle the chocolate chips over the top. Put it back in the oven for 1 minute, then spread the chocolate chips around with a spatula until mostly melted. Sprinkle generously with salt.
Let cool on completely. If the chocolate doesn't firm up, place it in the refrigerator until it does. Break it up into uneven chunks with your hands and serve.