Cookies and Cream Cupcakes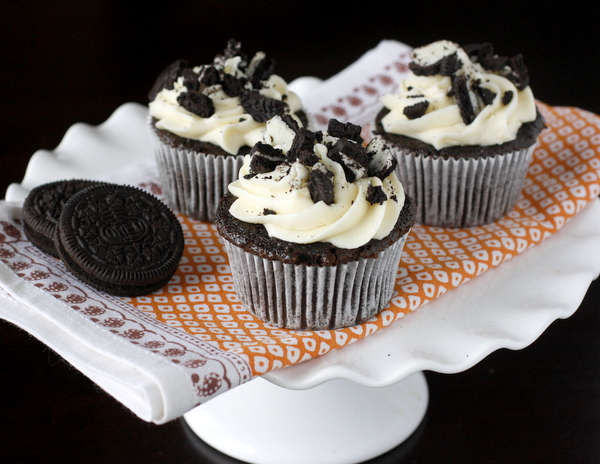 You're going to love this recipe – these cookies and cream cupcakes taste just like oreos! I love trying new cupcake recipes, and I'm pretty sure Mike loves taste testing them. I've been wanting to try cookies and cream cupcakes for awhile now, but seeing a picture of a cookies and cream cake gave me the push I needed. For these cupcakes I used my favorite chocolate cupcake base and a new (to me) white chocolate buttercream frosting. To complete the cookies and cream effect I sprinkled chopped oreos on top of the icing. The end result was so cute and really did taste like an oreo. Plus, this white chocolate buttercream just might be my new favorite icing. That stuff is good! If cookies and cream cupcakes sound as appealing to you as they did to me, I'm pretty sure you'll love this recipe.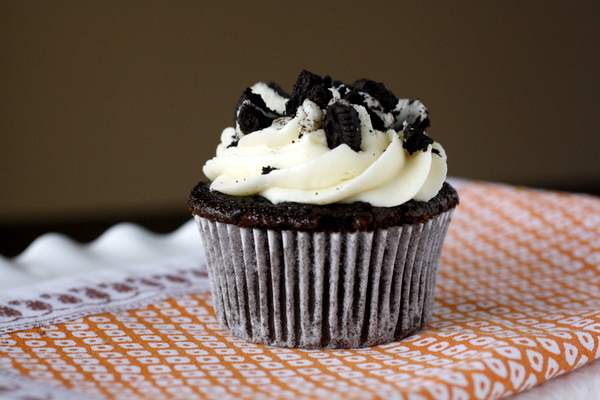 Cookies and Cream Cupcakes
Yield: Makes 24-28 cupcakes
Chocolate cupcakes topped with white chocolate buttercream and oreo pieces. They taste just like cookies and cream!
Ingredients:
Chocolate Cupcakes:
1 3/4 cups all-purpose flour
2 cups granulated sugar
3/4 cup Dark Cocoa Powder
2 teaspoons baking soda
1 teaspoon baking powder
1 teaspoon salt
2 eggs
1 cup strong black coffee
1 cup buttermilk, room temperature
1/2 cup vegetable oil
1 tablespoon pure vanilla extract
White Chocolate Buttercream:
6 oz white chocolate, finely chopped
3 sticks unsalted butter, softened
1 tsp vanilla extract
pinch of salt
3 cups confectioners' sugar
Chopped oreos
Directions:
For the cupcakes: Heat oven to 350 and line a muffin tin with 24-28 (depending on how big you like your cupcakes) paper liners. In a large mixing bowl, stir together sugar, flour, cocoa, baking powder, baking soda and salt. Sift the dry ingredients into the bowl of electric mixer. Add the remaining ingredients to the bowl. With paddle attachment on mixer, mix for 2 minutes on medium speed (you may need the plastic splashguard that comes with mixer). The batter will be liquidy. Pour into prepared muffin tins, filling until tins are 2/3 full with batter. Bake cupcakes for approximately 22-24 minutes, or until tooth pick inserted into a center cupcakes comes out with moist crumbs. Cool completely on wire rack before frosting.
For the frosting: Put the white chocolate in a microwave-safe bowl and microwave in 30-second intervals, stirring, until smooth; let cool slightly. Beat the butter, vanilla and salt in a large bowl with a mixer on medium-high speed until smooth, about 1 minute. Add the melted white chocolate and beat until combined. Gradually beat in the confectioners' sugar until smooth.
Frosting recipe from Food Network Magazine January 2013