Red Velvet Cheese Ball
How fun is this red velvet cheese ball?? It's a dessert cheese ball that is perfect when served with vanilla wafers or graham crackers. I chose to serve mine with vanilla wafers since they bring back childhood memories. 🙂
I've made other dessert type dips in the past (chocolate chip cookie dough dip or s'mores dip anyone??), but this is the first one I've actually made into a cheese ball. I love the way it looks all covered in mini chocolate chips! And the red velvet flavor is so fun! This would be a great snack or dessert for Valentine's Day, and it's very quick and easy to make.
*p.s. I've realized I have too many recipes to share for Valentine's Day, and I want to fit them all in, so I'm declaring this week Valentine's Week on the blog! 🙂 Be sure to check out yesterday's Homemade Conversation Hearts if you missed them!
p.p.s. Want more Valentine's Day recipes?? I've got a whole Pinterest board for you to look at 🙂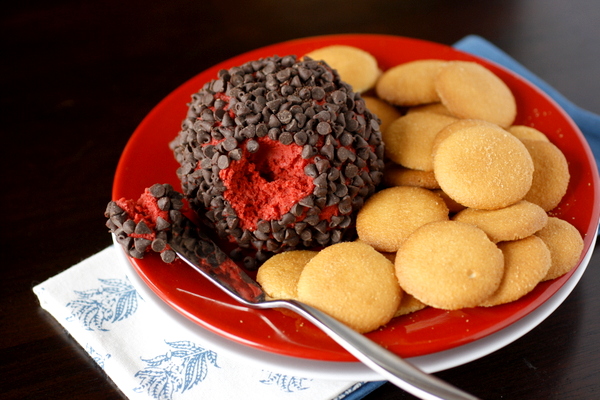 Red Velvet Cheese Ball
Prep Time: 15 min
Total Time: 2 hours 15 min
Ingredients:
8 ounces cream cheese, at room temperature
1/2 cup butter, at room temperature
1 1/2 cups red velvet cake mix, dry
2 tablespoons brown sugar
1/2 cup powdered sugar
1/2 - 3/4 cup mini chocolate chips
Vanilla Wafers, for serving (or graham crackers, animal crackers, or whatever else you think would taste good!)
Directions:
In a medium sized bowl, beat the cream cheese and butter until smooth. Add in the red velvet cake mix, the brown sugar and the powdered sugar and beat until smooth. Transfer to a large piece of plastic wrap and wrap up into a ball. Refrigerate for 2 hours.
Place the mini chocolate chips in a shallow dish. Unwrap the cheese ball and roll in the chocolate chips. This will be a little messy, and you may have to use your hands to help press the chocolate chips into the cheese ball.
Place on a serving plate and serve with vanilla wafers, or cracker of your choice.