Peanut Butter Chocolate Chip Cookies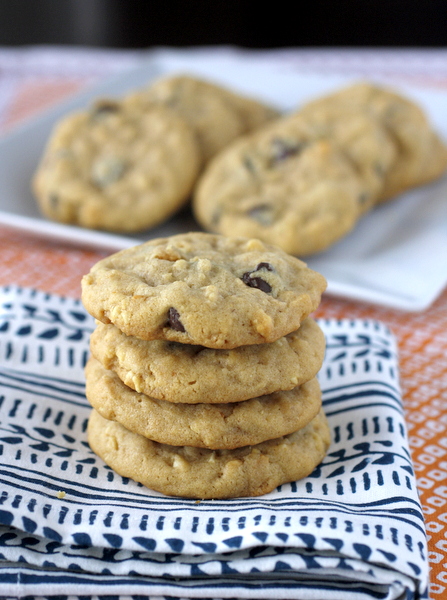 I've got a treat for you today! I made these cookies for Mike's coworkers a few weeks ago, and they are so good! I love peanut butter cookies, and of course I couldn't resist adding in some chocolate chips for good measure. 🙂 The recipe comes from Baking Illustrated, a wonderful cookbook that never fails me when it comes to baked goods. These cookies are exactly what peanut butter cookies should be. They're soft and chewy, and they have a ton of peanut butter flavor. Plus, there are ground up peanuts mixed right into the cookie dough, making the texture and flavor that much better. It's a good thing I sent these off to work with Mike because I couldn't stop eating them! Even Mike, who isn't usually a fan of peanut butter treats, loved these cookies. I hope you try them and like them as much as we did. 🙂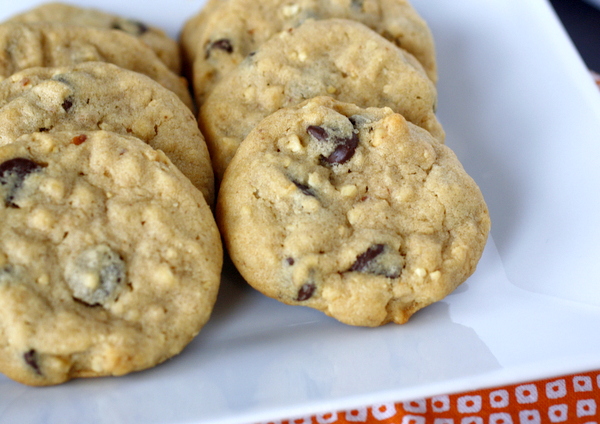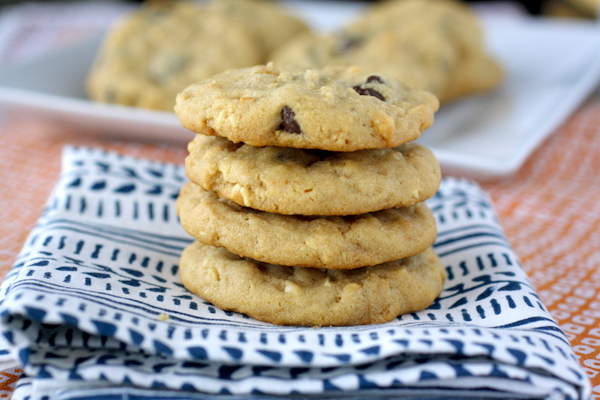 Peanut Butter Chocolate Chip Cookies
Ingredients:
2 1/2 cups all purpose flour
1/2 tsp baking soda
1/2 tsp baking powder
1 tsp salt
16 Tbsp (2 sticks) unsalted butter, softened
1 cup packed light brown sugar
1 cup granulated sugar
1 cup extra crunchy peanut butter
2 large eggs
2 tsp vanilla extract
1 cup dry-roasted salted peanuts, ground in a food processor to resemble bread crumbs
1 1/2 cups semi-sweet chocolate chips
Directions:
Pre-heat oven to 350. Line baking sheets with parchment paper.
In a medium sized bowl, whisk together the flour, baking soda, baking powder and salt. Set aside.
In a large bowl, beat the butter and sugars until fluffy, about 3 minutes. Beat in the peanut butter until fully incorporated. Beat in the eggs, 1 at a time, then the vanilla, scraping down the bowl as needed. Gently stir in the dry ingredients. Add the ground peanuts and chocolate chips and stir just until incorporated.
Roll the dough into 2-inch balls and place on the prepared baking sheet. Press each dough ball twice with a dinner fork to make a crisscross design.
Bake until the cookies are puffed and slightly brown around the edges but not on top, 10-12 minutes. The cookies will not look fully baked when you take them out of the oven. Cool on the baking sheet 5 minutes, then transfer to a cooling rack to cool completely.
*Note: Amazon links are affiliates