Crisp Cucumber Salsa
I've got a great healthy recipe for you today! This crisp cucumber salsa is a perfect recipe for summer. It's light and fresh, but even more importantly, it's delicious!
I made this as a snack for Mike and I one afternoon, and we finished the whole recipe in one day. I was proud of our healthy snack and told Mike we had probably eaten a full serving of vegetables. Of course he had to go and burst my bubble by reminding me how many tortilla chips we had eaten. 🙂
Just to warn you – this salsa is somewhat addicting. It's such a nice alternative to traditional tomato salsa – perfect for warm weather because it tastes so nice and fresh. I hope you enjoy it as much as we did!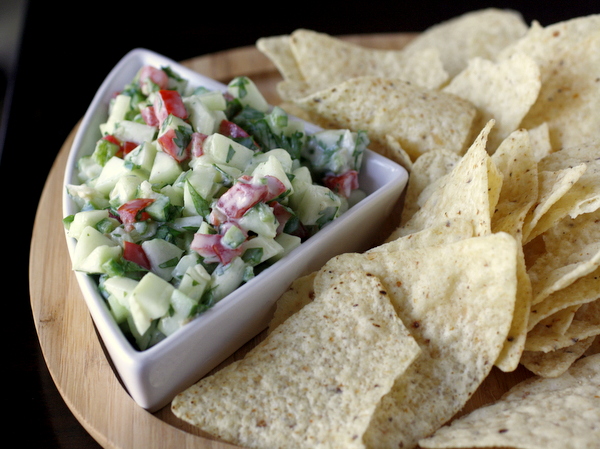 Looking for more summer treats?  Check out this fruit salsa dish or this strawberry ramen salad.
I've also put together some ideas for easy ways to sneak more vegetables into your diet.  Would love to hear about your secrets for eating your vegetables!
Crisp Cucumber Salsa
Ingredients:
2 cups finely chopped seeded peeled cucumber
1/2 cup finely chopped seeded tomato
1/4 cup chopped red onion
2 tablespoons minced fresh parsley
1 jalapeno pepper, seeded and chopped
4-1/2 teaspoons minced fresh cilantro
1 garlic clove, minced
1/4 cup sour cream
1-1/2 teaspoons lemon juice
1-1/2 teaspoons lime juice
1/4 teaspoon ground cumin
1/4 teaspoon seasoned salt
Tortilla chips, for serving
Directions:
In a medium sized bowl, combine the cucumber, tomato, onion, parsley, jalapeno, cilantro and garlic.
In a small bowl, combine the sour cream, lemon juice, lime juice, cumin and seasoned salt. Pour over cucumber mixture and toss gently to coat.
Serve immediately with chips.