Homemade Peppermint Oreos
Day 7 of the 12 Days of Christmas Treats! How fun are these homemade peppermint oreos?? If you're anything like me, you have a hard time resisting those holiday oreos you find in the store this time of year. But good news – now you can make your own! And dare I say, these homemade cookies taste even better than the original??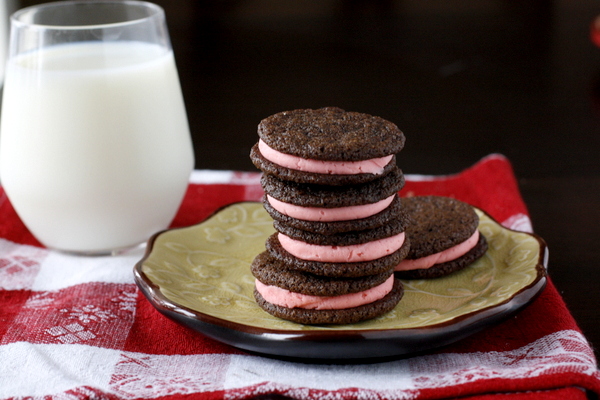 The cookies are crisp and crunchy, and the cream is perfectly sweet and full of peppermint flavor. Overall it tastes like a peppermint oreo, only better!  And best of all, you don't have to roll and cut out the dough. Just drop by rounded spoonfuls and they turn into perfect little circles in the oven! 🙂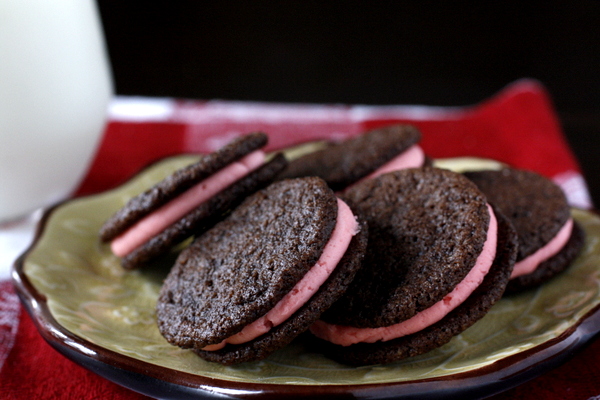 Click here to see the rest of the 12 Days of Christmas Treats 2013. Or you can see all of my Christmas treat recipes from over the years at this Christmas Cookies tag. Enjoy! And, as always, let me know if you try any and how you liked them.
Homemade Peppermint Oreos
Ingredients:
For the cookies:
1 1/4 cups all-purpose flour
1/2 cup unsweetened Dutch process cocoa
1 teaspoon baking soda
1/4 teaspoon baking powder
1/4 teaspoon salt
1 1/4 cups sugar
1/2 cup plus 2 tablespoons (1 1/4 sticks) room-temperature, unsalted butter
1 large egg
For the cream filling:
1/4 cup room-temperature, unsalted butter
1/4 cup vegetable shortening
2 cups sifted confectioners' sugar
1/2 tsp peppermint extract
Milk, as needed
Directions:
Preheat oven to 375°F.
In a large bowl, mix together the flour, cocoa, baking soda and powder, salt, and sugar. On low speed, add the butter, and then the egg. Continue mixing until dough comes together.
Roll rounded teaspoons of batter and place on a parchment-lined baking sheet two inches apart. With moistened hands, slightly flatten the balls. Bake for 9 minutes. Let cook on pan 2-3 minutes, then transfer to a cooling rack to cool completely.
To make the cream filling, place butter and shortening in a mixing bowl and beat to combine. Beat in the powdered sugar and peppermint extract. Turn the mixer on high and beat for 2 to 3 minutes until filling is light and fluffy. If necessary, add a tiny amount of milk. You want the icing to stay nice and thick, like an oreo's filling.
Using a piping bag, place about a teaspoon of icing onto the center of half of the cookies. Top with the remaining cookies and lightly press to work the filling evenly to the outsides of the cookie.