Peppermint Snowball Cookies
Similar to classic snowball cookies (also known as Russian teacakes), but peppermint flavored for Christmas!
Welcome to Day 2 of the 12 Days of Christmas Treats! Aren't these peppermint snowball cookies cute?? And they taste just as good as they look! They are similar to classic snowball cookies, but they are peppermint flavored for Christmas. Oh and I added some peppermint icing and crushed candy canes on top for good measure. 🙂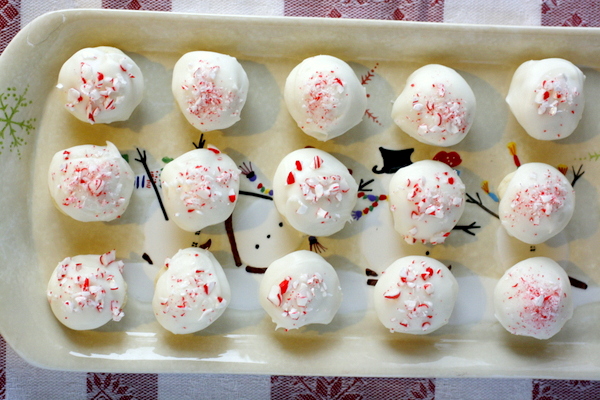 The cookies themselves are soft and crumbly and sort of melt in your mouth. I love how they keep their shape in the oven so that they really do look like little snowballs. As I mentioned above, the icing on top is peppermint flavored as well, and is a great addition to an otherwise simple cookie. I love icing on pretty much anything, and these cookies are no exception. 🙂
I hope you try them – they are so pretty and perfect for Christmas!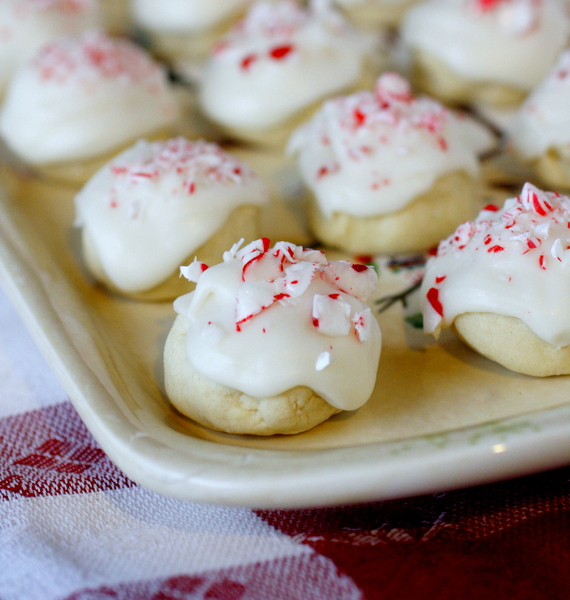 Click here to see the rest of the 12 Days of Christmas Treats 2013. Or you can see all of my Christmas treat recipes from over the years at this Christmas Cookies tag. Enjoy! And, as always, let me know if you try any and how you liked them.
Peppermint Snowball Cookies
Yield: Makes about 3 dozen cookies
Ingredients:
For the cookies:
2 and 1/2 cups flour
1/4 tsp salt
1/2 cup butter
1 cup powdered sugar
1 egg
1/2 tsp. peppermint extract
1/2 tsp. vanilla
For the icing:
2 cups confectioners' sugar, sifted
2 Tbsp unsalted butter, melted
1/4 tsp peppermint extract
3 Tbsp. milk (plus more, as needed)
Crushed Candy Canes, for topping
Directions:
For the cookies:
Preheat oven to 350.
In a medium sized bowl, whisk together the flour and salt. Set aside.
In a large bowl, beat butter and sugar until creamy. Beat in egg and extracts. On low speed, beat in the flour mixture. Dough will be crumbly.
Press the dough into a ball, wrap in plastic wrap and refrigerate at least one hour.
Shape dough into 1 inch balls and bake on greased baking sheets. Bake 10-12 minutes.
Move cookies to a wire rack to cool completely.
For the icing:
Place the confectioners' sugar in a medium bowl. Add the melted butter, vanilla, and milk to the bowl and whisk until smooth. Whisk in additional milk as necessary, 1 teaspoon at a time, until you reach your desired consistency.
Top with crushed candy canes.