Chocolate Waffles
These chocolate waffles are the perfect indulgent breakfast. They are rich and delicious and full of chocolate flavor.  We love waffles around here, but I'd never tried chocolate waffles before. I was brainstorming ideas for fun Valentine's Day food and couldn't get the idea of chocolate waffles out of my head. I ended up making these last weekend and told Mike we were celebrating Valentine's Day a week early. 🙂 ( I'm pretty sure it's a side effect of being a food blogger that you eat holiday food weeks early in order to have recipes ready to share on the blog!)  We both loved these chocolate waffles, and the recipe made enough that we can re-heat them for another fun breakfast and enjoy them all over again.  And definitely don't skimp on the whipped cream and strawberries – they make the perfect topping. Enjoy!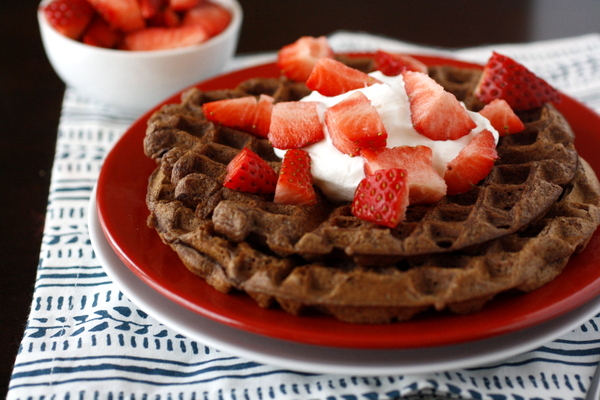 Chocolate Waffles
Ingredients:
1 1/2 cups all-purpose flour
3 Tbsp granulated sugar
1/2 cup unsweetened cocoa powder
1 tsp baking powder
1 tsp salt
1/2 tsp baking soda
3 whole eggs
2 ounces unsalted butter, melted and slightly cooled
1 tsp vanilla extract
2 cups buttermilk
3/4 cup chocolate chips
Directions:
In a medium bowl whisk together the flour, sugar, cocoa powder, baking powder, salt, and baking soda. In a separate bowl whisk together the eggs, melted butter, and vanilla. Stir in the buttermilk. Add the wet ingredients to the dry and stir until combined. Stir in the chocolate chips. Let rest for 5 minutes.
Preheat waffle iron and spray with non-stick spray. Cook waffles according to your waffle iron's directions. Serve immediately or keep warm in a 200 degree F oven until ready to serve. For an extra treat, serve with lightly sweetened whipped cream and strawberries!