Thick and Chewy Chocolate Chip Cookie Cake
I am so excited to share this chocolate chip cookie cake with you today! Like the name says, it truly is thick and chewy and absolutely delicious.  I love cookie cakes and used to ask for one every year for my birthday. What is it about a cookie cake that tastes so much better than regular old chocolate chip cookies?
I originally found this recipe on Pinterest and immediately searched for a reason to give it a try. And it was so good that I already want to make it again. 🙂  The cookie is so soft and chewy, and it has the perfect chocolate chip cookie flavor.  I decorated the top with my favorite simple buttercream icing (recipe included below), but you can play around and use whatever you want. No matter how to top it, if you're anything like me, you won't be able to get enough of this cookie cake!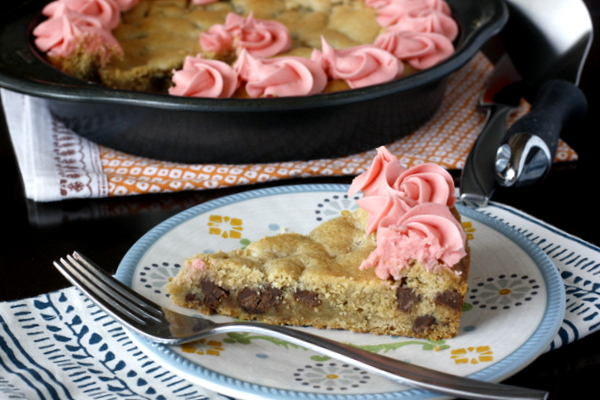 Thick and Chewy Chocolate Chip Cookie Cake
Ingredients:
Cookie Cake
3/4 cup unsalted butter, at room temperature
3/4 cup brown sugar
1/4 cup sugar
1 egg
2 tsp vanilla extract
2 cups all purpose flour
2 tsp cornstarch
1 tsp baking soda
1/2 tsp salt
1 1/4 cups semi-sweet chocolate chips
Vanilla Buttercream Icing
1 stick unsalted butter, softened
1/2 tsp vanilla extract
2 cups powdered sugar
pinch of salt
1-2 Tbsp heavy cream or milk
Directions:
For the cake:
In a large bowl, cream the butter and sugar together until light and fluffy, about 3 minutes. Beat in the egg and vanilla. With the mixer on low speed, add the flour, cornstarch, baking soda and salt. Stir in the chocolate chips. Dough will be thick. Chill for at least 30 minutes or overnight.
Preheat oven to 350 degrees. Grease the bottom of a 9-inch round cake pan. Spread the dough out into the cake pan. Bake for 18-20 minutes or until the edges are slightly golden and middle is just set. Remove from oven and allow to cool completely before cutting.
For the icing:
Cream together the butter, confectioners' sugar and vanilla. Add salt and 1-2 teaspoons of heavy cream or milk.
Blend on low speed until moistened. Add additional cream/millk until you reach the desired consistency and beat at high speed until frosting is smooth and fluffy.