Roasted Garlic, Chicken and Herb Pizza
We love pizza in our house and I probably make homemade pizza a few times a month. It's an easy dinner to make and it's always a favorite.
Recently I thought I'd branch out a little bit from our favorite recipe (we love our traditional homemade pizza sauce – yum!) and try this roasted garlic, chicken and herb pizza. And we loved it! It was such a nice change of pace from our traditional favorite, and felt a little more "grown-up" if that makes any sense. 🙂 I already can't wait to try it again, and now I have other fun pizza topping ideas in my head!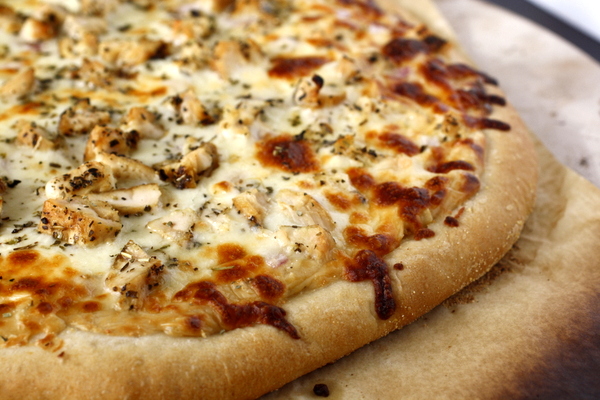 The white sauce on this pizza is nice and garlicky without being overly strong, and the chicken and herbs give the pizza lots of flavor. It was even good as leftovers the following day, which is important in our family – we love leftover pizza!
I used my favorite homemade pizza dough recipe, which gives the pizza a nice chewy crust. And the combination of garlic, cheese, herbs, and chicken on top was absolutely perfect!
I don't think this version will replace our trusty tomato sauce and cheese version (Zeke was too apprehensive to even touch this new kind), but it's definitely a delicious alternative. You can never go wrong with roasted garlic, chicken and cheese!
I think it's safe to say we'll be making this pizza again, and maybe next time we can convince Zeke to branch out and discover how good it is. 🙂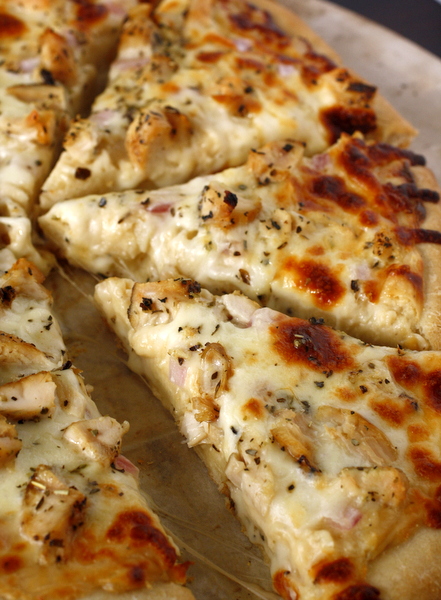 Interested in other homemade pizza recipes?  Check out this delicious chicken bacon ranch pizza or this go-to margarita pizza!  Barbecue chicken pizza is always a great option as well!
Roasted Garlic, Chicken and Herb Pizza
Ingredients:
1 pound pizza dough (I used half of my favorite pizza dough recipe)
1 Tbsp butter
1 garlic bulb
2 Tbsp all purpose flour
pepper, to taste
3/4 cup fat free evaporated milk
1/4 cup Parmesan cheese, finely grated or shredded
1 cup cooked chicken, shredded
Red onion, diced, to taste
8 oz Mozzarella cheese
herbs of choice, to taste (parsley, oregano, bail, thyme, rosemary, etc.)
Directions:
Roast the garlic:
Preheat oven to 350 degrees. Cut 1/4" of the head of the bulb off. Place the garlic bulb on a sheet of tin foil and drizzle 1 tsp. olive oil on the top cut off portion. Scrunch foil up around the garlic and place on a baking sheet. Bake for 20-25 minutes. Remove from foil and allow to cool. Once cool,
squeeze the roasted cloves. Mince 8 cloves and set aside for this recipe. Store the rest in a ziploc bag in the refrigerator.
Preheat oven to 450 degrees. In a small saucepan melt butter over medium heat. Add roasted garlic and saute for 1 minute. Add flour and mix until blended, cook for 1 minute. Slowly whisk in the evaporated milk and pepper. Cook for 3 minutes, or until it thickens. Remove from heat and stir in Parmesan.
Transfer the dough to your shaping surface, lightly sprinkled with cornmeal. (a pizza peel or parchment paper) Shape the dough with lightly floured hands. Spread white sauce over dough. Top with chicken, onions, and cheese. Bake 17 minutes or until the crust is golden brown and the cheese is bubbly. Sprinkle with herbs. Serve immediately.