Double Chocolate Muffins
In case you haven't noticed, I love baking muffins. All it takes is a quick look at my muffins and quick bread category of recipes and you will be able to tell how much I love to bake these sorts of treats! I like to keep muffins or something similar on hand to pack in Mike's lunches during the week, and I found this recipe for double chocolate muffins when I was looking for a new and easy muffin recipe to try a few weeks ago. I love chocolate anything, and so of course I had to try these right away. 🙂 And they were so good! The chocolate muffin itself isn't overly sweet, but the chocolate chips bring the decadence level up a little bit. It's almost like eating dessert for breakfast, but you don't feel guilty about it because technically you're eating a muffin. 🙂 Give these a try – you can't go wrong with double chocolate muffins, especially for breakfast!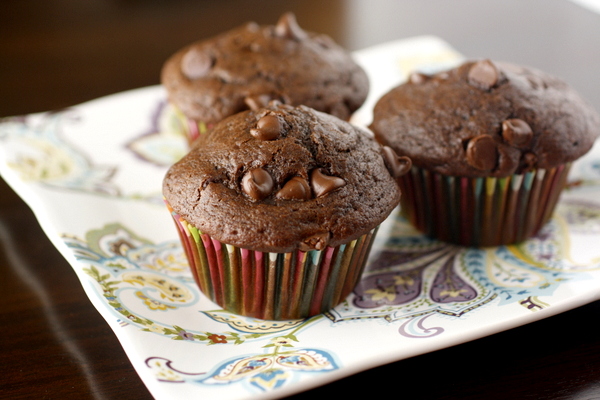 Double Chocolate Muffins
Ingredients:
2 cups all-purpose flour
1 cup granulated sugar
1 cup chocolate chips, divided
1/2 cup unsweetened cocoa powder
1 tsp baking soda
1/2 tsp salt
1 tsp vanilla extract
1 egg
1 cup plain yogurt
1/2 cup milk
1/2 cup vegetable oil
Directions:
Preheat oven to 400 degrees F. Grease 12 muffin cups or line with paper liners. Set aside.
In a large bowl, combine the flour, sugar, 3/4 cup of the chocolate chips, cocoa powder, baking soda, and salt. In a separate bowl, whisk together the egg, yogurt, milk, and vegetable oil until combined. Pour the wet ingredients into the chocolate mixture and stir until batter is just mixed. Fill prepared muffin cups 3/4 full and sprinkle with remaining 1/4 cup chocolate chips.
Bake 20-22 minutes, or until a toothpick inserted into a center muffin comes out clean or with moist crumbs. Cool in the pans for 10 minutes before removing to cool completely on a wire rack.