Eclair Cake
This eclair cake is an old classic! It's a great no-bake dessert that is always a hit no matter where you bring it. It's definitely a staple in some circles, but believe it or not, this is the first time I ever made it! I was looking for an easy make-ahead dessert to take to a cook-out and this one stood out to me on Pinterest.  Mike loves pudding type desserts, so I was pretty certain he would like this eclair cake. It consists of layers of graham crackers, pudding and cool whip, with a delicious chocolate frosting on top. The graham crackers soften and become cake-like and the whole thing is delicious and addicting. I'm guessing most people have had it before, so I feel a little silly posting the recipe, but for those of you who have been deprived of this delicious dessert your whole life – here you go! You need to make it as soon as possible. It is a great dessert to take to cook-outs and pot-lucks, and it's sure to be a crowd-pleaser.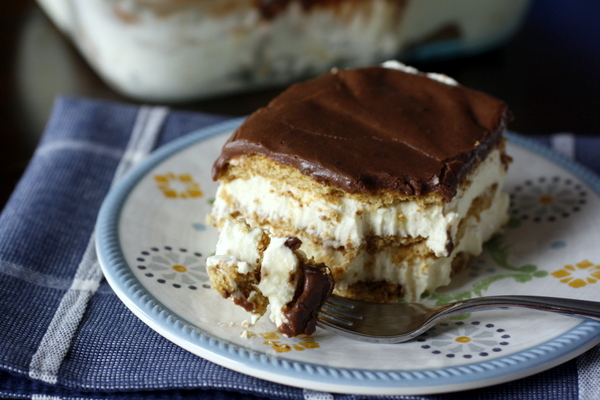 Eclair Dessert
Ingredients:
For the cake:
2 (3.4 oz) packages Vanilla Instant Pudding mix, dry
3 1/2 cups whole milk
12 oz. cool whip
2 (14.4) oz packages graham crackers
For the frosting:
6 Tbsp. butter
6 Tbsp. milk
6 Tbsp. cocoa
2 cup powdered sugar
Directions:
For the cake:
Using a handheld mixer, blend the milk and vanilla pudding packets for about 2 minutes. Fold in Cool Whip.
In a 9x13 pan, layer graham crackers to cover entire bottom of pan. You may need to cut and shape the crackers to fit.
Place half of pudding/cool whip mixture on top and level.
Put another layer of graham crackers to cover entire surface.
Put the second half of pudding/cool whip mixture on top and level.
Put the final layer of graham crackers on top.
For the frosting:
Microwave butter and milk just enough so that they are melted together. Be careful not to let it boil.
Add cocoa and powdered sugar mix until well-blended.
Pour over top of graham crackers and smooth out nicely.
Refrigerate overnight, and then serve cold.