Barbecue Chicken and Pineapple Quesadillas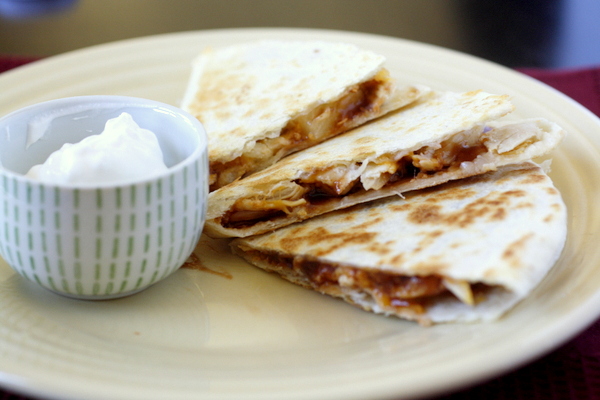 You are going to love these barbecue chicken and pineapple quesadillas! You couldn't ask for a quicker or easier meal – and of course I wouldn't be posting it if it didn't taste great!
We love quesadillas around here, the cheesier the better, and recently I was inspired by something I saw on Pinterest to try this barbecue chicken and pineapple version. To make them you just sandwich some chicken, cheese, pineapple and barbecue sauce inside two tortillas, heat over the stove, and serve!
Don't be fooled by how simple they are to make – they're absolutely delicious. I normally cook up enough chicken to have these for two days in a row, and we never get tired of them.  They are warm, cheesy, and full of flavor – definitely one of our new favorite recipes. 🙂
Other excellent quesadilla options that I've made include versions with chicken and spinach, chicken, roasted poblano, and corn, and grilled vegetable!
Barbecue Chicken Quesadillas
Ingredients:
8 flour tortillas
2 cups cooked, chopped chicken
Barbecue sauce
1 can pineapple tidbits, drained
2 cups grated cheddar cheese
sour cream, for serving
Directions:
Warm griddle over medium heat and spray with nonstick cooking spray.
Place tortilla on griddle. Layer chicken, pineapple and cheese on top. Drizzle barbecue sauce on top and cover with another tortilla.
Cook, flipping once, until both sides are golden brown and cheese is melted.
Cut into wedges and serve with sour cream.