Creamy Crock Pot Macaroni and Cheese
It doesn't get much better than this rich and creamy crock pot macaroni and cheese! I love a good homemade mac and cheese (I've posted several different recipes before!), and I've been looking for a good slow cooker version for awhile now. I love the idea of setting and forgetting, and aside from stirring a few times, this is one recipe that you can pretty much ignore once it's in the crock pot. It takes a little bit of prep work, but the end result is so creamy and cheesy and delicious that it's totally worth it. This recipe is very potluck friendly, and the first time I made it I actually took it to a potluck at my church. I loved that I could plug the crock pot in when I got there in the morning, and by the time we were ready for lunch, the mac and cheese was perfectly done. I hope you try this one – I'm pretty sure it will be my potluck staple from now on!
*p.s. to feed a large crowd, I doubled the recipe and cooked it in my large crock pot – worked perfectly!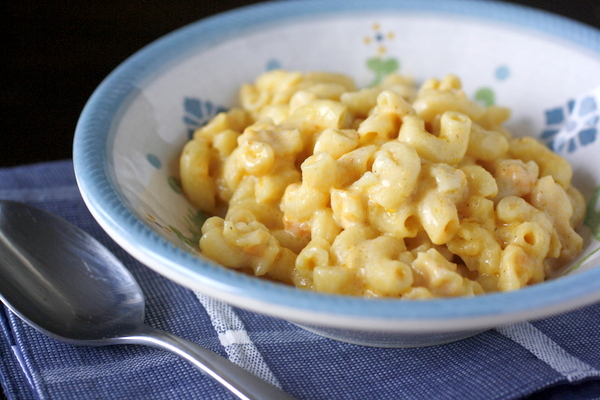 Ingredients:
2 cups uncooked elbow macaroni
4 tablespoons butter, cut into pieces
2 1/2 cups (about 10 ounces) grated sharp Cheddar cheese
3 eggs, beaten
1/2 cup sour cream
1 (10 3/4-ounce) can condensed Cheddar cheese soup
1/2 tsp salt
1 cup whole milk
1/2 tsp dry mustard
1/2 tsp black pepper
Directions:
Boil the macaroni until tender, about 7 minutes. Drain and set aside.
In a medium saucepan over medium heat mix together the butter and cheese. Stir until the cheese melts.
Pour into the slow cooker and add the eggs, sour cream, soup, salt, milk, mustard and pepper and stir well.
Then add drained macaroni and stir again. Set the slow cooker on low setting and cook for 3 hours, stirring occasionally.