Brown Butter Snickerdoodles with Caramel Bits
I have to be honest and tell you that snickerdoodles have never been my favorite cookie. I like them and all, but I usually prefer something with lots of chocolate. 🙂 That being said, these brown butter snickerdoodles with caramel bits are pretty amazing!
The brown butter gives them a nice caramel/toffee flavor, and the texture is so incredibly soft and chewy. Add in the caramel bits, and you have a delicious kicked-up version of a classic favorite.
I think you can only find the caramel bits (made by Kraft) in grocery stores this time of year, so now is definitely the time to make these snickerdoodles. I ate more of them than I should admit, and I'm guessing you will enjoy them as much as we did. 🙂
*See all 12 days of Christmas Treats from 2014 here! 🙂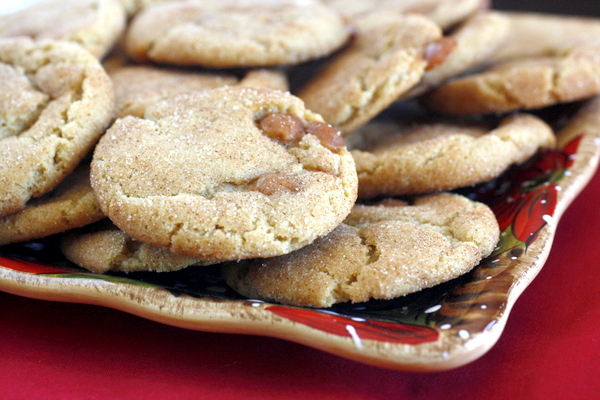 *Check out the delicious treats from previous years!  Mint Chocolate Puddles | Molasses Ginger Cookies | Fresh Cranberry Lemon Cookies | Chocolate Toffee Shortbread Bars
P.S. You can see all of my Christmas treat recipes from over the years at this Christmas Cookies tag. Enjoy! And, as always, let me know if you try any and how you liked them.
Brown Butter Snickerdoodles with Caramel Bits
Ingredients:
2 1/2 cups all purpose flour
1 teaspoon baking soda
2 teaspoons cream of tartar
1/2 teaspoon cinnamon
1/4 teaspoon of salt
1 cup unsalted butter
1 1/4 cup packed brown sugar (light will also work)
1/2 cup granulated sugar
1 large egg
1 egg yolk
1 teaspoons vanilla extract
1 tablespoon plain greek yogurt
1 cup Kraft caramel bits
For the rolling mixture:
1/4 cup sugar
2 teaspoons cinnamon
Directions:
In a medium saucepan, add 1 cup butter and melt over medium heat, whisking occasionally. The butter will crackle and start to foam at the top. The crackling will subside and you will see the color of the butter change to brown. Watch closely, as it happens quickly. Remove the pan from the heat and allow to cool for a few minutes.
In a mixing bowl, whisk together flour, baking soda, cream of tarter, cinnamon, and salt. Set aside.
Using a mixer, beat together brown sugar, sugar and slowly add the brown butter until mixed together. Add egg, egg yolk, vanilla, and greek yogurt. Mix on low until all is incorporated. Slowly add in flour mixture and mix on low until combined. Stir in the caramel bits.
Wrap the dough up in plastic wrap and chill for at least one hour, or up to three. Preheat oven to 350 degrees. Line a cookie sheet with parchment paper. Roll the dough into balls, using about 2 Tbsp per ball. Combine the 1/4 cup sugar and 2 teaspoons cinnamon in small mixing bowl. Roll the dough balls in the rolling mixture. Place 2 inches apart on the cookie sheet. Bake for 8-11 minutes or until the edges are lightly brown. Transfer to a wire rack to cool.