Gooey Chocolate Chip Sandwich Bars
Day 2 of the 12 Days of Christmas Treats and I've got more chocolate for you! You will love these gooey chocolate chip sandwich bars! Doesn't the name just make you want to try these cookies? Trust me when I say you will not be disappointed.
The chocolate chip cookie base is soft and chewy and delicious all on its own. But add in a soft and creamy middle layer of chocolate fudge and these bars become over-the-top incredible! They are very rich, so cut them on the small side. And don't be surprised if people go back for more than one. They're just a little bit addicting. 🙂
*See all 12 days of Christmas Treats from 2014 here! 🙂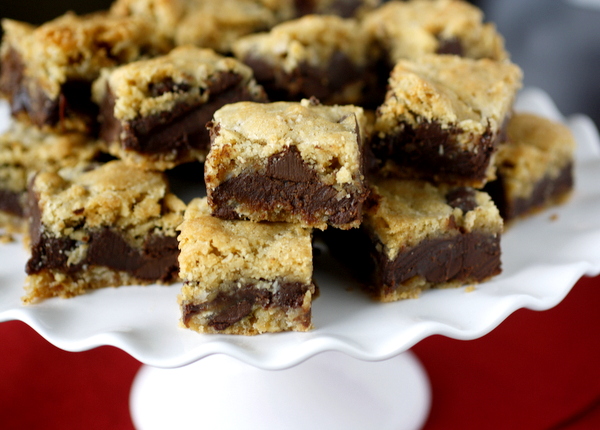 Check out the Christmas treats from previous years! Peppermint Meltaways | Cookies and Cream Cheesecake Truffles | Creamy Christmas Mints| Peppermint Snowball Cookies
P.S. You can see all of my Christmas treat recipes from over the years at this Christmas Cookies tag. Enjoy! And, as always, let me know if you try any and how you liked them.
Gooey Chocolate Sandwich Bars
Ingredients:
For the cookie base:
2 cups all-purpose flour
1 cup quick-cooking or old-fashioned oats
1 tsp baking powder
1 tsp baking soda
1 tsp kosher salt
2 1/2 sticks unsalted butter at room temperature
1 cup light brown sugar
1/2 cup granulated sugar
1 large egg at room temperature
1 large egg yolk at room temperature
1 Tbsp vanilla extract
1 1/2 cups bittersweet chocolate chips
For the middle layer:
2 cups bittersweet chocolate chips
14-oz can of sweetened condensed milk
2 tsp vanilla extract
Directions:
Heat the oven to 350℉. Lightly butter a 9 x 13" baking dish.
For the middle layer: In a small saucepan, melt the chocolate chips and the sweetened condensed milk over low heat, stirring constantly, until smooth and thickened, 3 to 5 minutes. Remove from the heat stir in the vanilla. Let cool to room temperature.
For the cookie dough: In a medium bowl, mix the flour with the oats, baking powder, baking soda, and salt. In a separate bowl, beat together the butter and both sugars until creamy. Add the egg, egg yolk and vanilla, beating well between additions and scraping down the side of the bowl as necessary. Beat in the dry ingredients until incorporated. Stir in the chocolate chips.
Press half of the cookie dough mixture into the prepared baking dish. Pour the cooled chocolate mixture over the dough and spread evenly. Top with small dollops of the remaining cookie dough; don't worry if the chocolate mixture is not completely covered. Bake for 20-25 minutes, until the top is lightly browned. let cool completely before cutting into bars.