Classic Italian Pizzelles
My grandmother's recipe for classic Italian pizzelle cookies – light and crispy and delicious!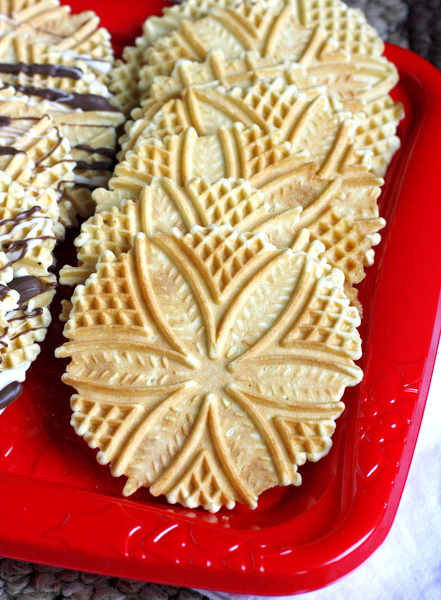 This pizzelle recipe was a staple in my family growing up. My grandma made these year after year (along with these galettes, or French waffle cookies I posted about awhile ago!), and it didn't seem like Christmas without plates of pizzelles around the house.
If you're unfamiliar with pizzelles, they are thin wafer-like cookies with snowflake designs and are an Italian Christmas cookie tradition. They require a pizzelle iron, which looks a little bit like a waffle iron.
Even after she moved into an assisted living facility, my grandma coordinated a pizzelle baking day with the staff and other residents. Now my mom has my grandma's pizzelle iron, and when I was home last week we decided to dust it off and get out my grandma's old handwritten recipe.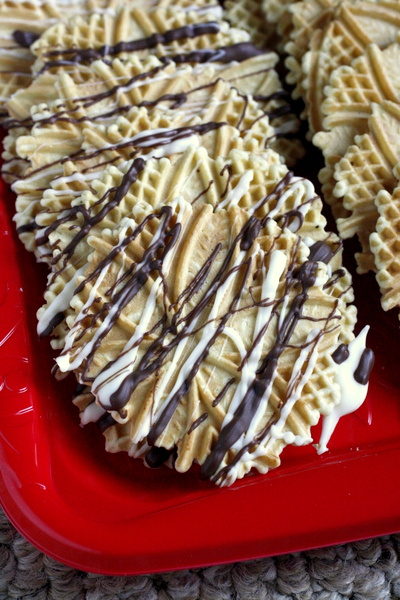 The cookies are light and crispy and just like I remember them.  They are traditionally made with anise flavoring, but I prefer vanilla, so that's what I used in this recipe.
This cookie is a classic, and is well loved by so many people. I dressed a few of them up with drizzled chocolate on top (yum!), but the cookies are delicious just as they are. Of course Zeke preferred the ones with chocolate. 😉
If you're looking for a classic, tried and true pizzelle cookie recipe, this recipe is for you. It is sure to become a family favorite. It just doesn't feel like Christmas around here without these cookies! 🙂
The pizzelle iron we used was my grandmother's, but you can buy them on Amazon!
See this link for comments from bakers who tried and LOVED this recipe on Pinterest!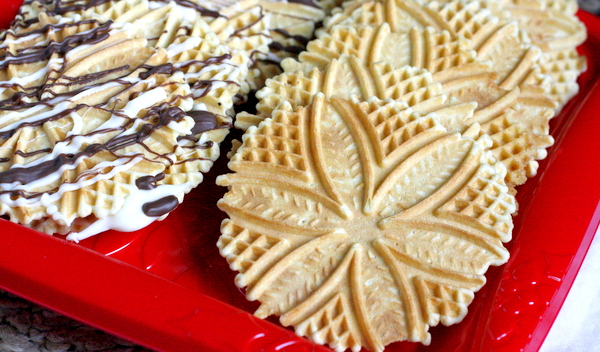 Classic Italian Pizzelles are day 12 of the 12 Days of Christmas Treats! I posted a new cookie every day for the first 12 days of December. You can see all these recipes from over the years under my Christmas Cookies tag. 🙂 See all of this year's cookies here: 12 Days of Christmas Treats 2015. Enjoy! And, as always, let me know if you try any and how you liked them.
P.S. If you want to try Mike's all-time favorite dessert, check out this delicious Blueberry Pudding Dessert from his grandma!
Classic Italian Pizzelles
Yield: Makes 30 pizzelles
My grandmother's recipe for classic Italian pizzelle cookies - light and crispy and delicious!
Ingredients:
6 Tbsp butter, softened
3 large eggs
3/4 cup sugar
1/4 teaspoon salt
1 teaspoon vanilla (or 1 tsp anise flavoring and 1 Tbsp anise seed)
2 cups all-purpose flour
Directions:
In a large bowl cream the butter and sugar. Beat in eggs, salt, and vanilla until well combined. Stir in the flour, mixing until smooth.
Heat your pizzelle iron. Cook the pizzelles according to the instructions that came with your iron. (Mine took about 45 seconds each to cook). Remove the pizzelles from the iron, and cool on a rack. If desired, dust cooled pizzelles with powdered sugar or drizzle with chocolate.