Christmas Kiss Cookies
These rich chocolate cookies are covered in Christmas sprinkles and topped with a Hershey's kiss!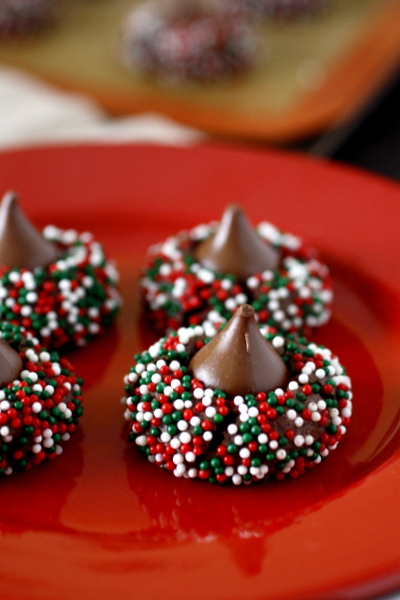 If you are looking for a cookie that is perfect for Christmas, look no further than these Christmas kiss cookies! These double chocolate Hershey's Kiss cookies are completely covered in Christmas sprinkles! Don't they look festive??
I love Hershey's kiss cookies. You can't go wrong with a melty chocolate kiss in the center of a cookie! We steer clear of peanut butter desserts these days because we have a kid with a peanut allergy, but if you want a peanut butter version, try this peanut butter cup cookie!)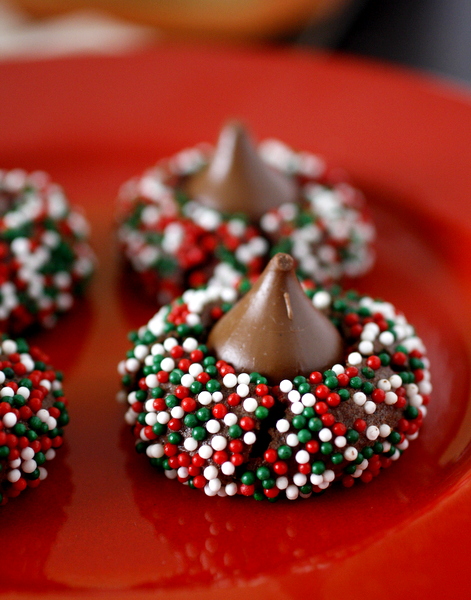 This double chocolate cookie is delicious on its own, but it's made even better by the addition of Christmas sprinkles! (Note: These nonpareil sprinkles are the ones I used!) The sprinkles added a nice crunch to the cookies and of course they make the cookies look extra Christmasy.
The sprinkles also made them irresistible to the kids! My 3 year old woke up from his nap to see these cookies cooling on the counter and his eyes got so big. The first words out of his mouth were "Wow mommy, those look so yummy!!" 🙂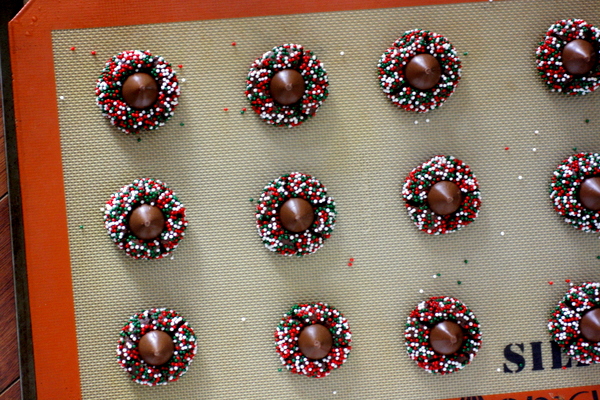 These chocolate kiss cookies are nice and easy to make as well! I love cookie recipes where the dough doesn't need to be refrigerated, and kids will love to help you roll the balls of dough in the sprinkles! I also gave my 5 year old the job of unwrapping all the Hershey's kisses. Apparently if you offer him a chocolate reward he can be quite the helper. 😉
These cookies would make such a pretty addition to your cookie trays this year. I hope you try them and love them as much as we do!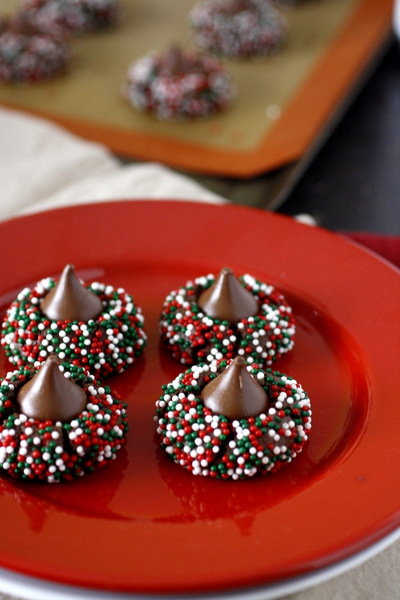 Yield: Makes 25 cookies
Christmas Kiss Cookies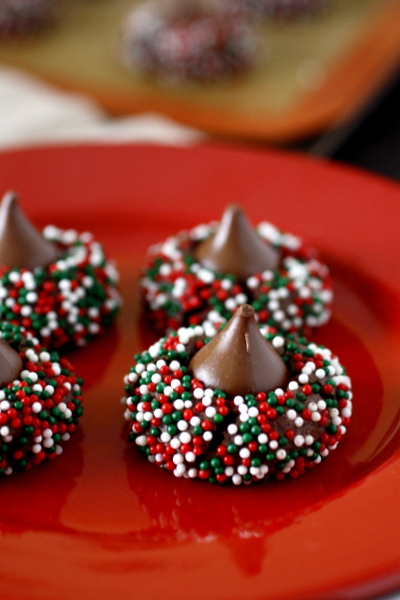 These rich chocolate cookies are covered in Christmas sprinkles and topped with a Hershey's kiss!
Ingredients
1 cup all-purpose flour
1/2 cup unsweetened cocoa powder
1/4 teaspoon salt
1/2 cup unsalted butter, softened
2/3 cup granulated sugar
1 egg yolk, at room temperature
2 Tablespoons milk
1 teaspoon vanilla extract
3/4 cup nonpareil sprinkles
25 Hershey's Kisses, unwrapped
Instructions
Preheat the oven to 350 degrees F. Line two baking sheets with parchment paper and set aside.
In a small bowl, whisk together the flour, cocoa, and salt. Set aside.
In the bowl of a stand mixer or using a handheld mixer, beat the butter on medium-high speed until smooth, about 1 minute. Add the sugar and beat on medium-high speed until creamed, about 2 minutes. Add the egg yolk, milk, and vanilla extract, and beat on high speed until combined, about 1 minute. Scrape down the sides and up the bottom of the bowl and beat again as needed to combine.
Add the dry ingredients to the wet ingredients and mix on low speed until combined.
Pour the sprinkles into a small bowl. Roll the balls of dough, about 3 teaspoons of dough per cookie, then roll each ball into the sprinkles to coat. Place the dough balls on the prepared baking sheet, 2 inches apart.
Bake the cookies for 10-12 minutes.
Remove the cookies from the oven and gently press a chocolate kiss into the center of each cookie. Allow the cookies to cool on the baking sheet for 5 minutes. Transfer the cookies to a wire rack to cool completely.
Recipe Source: Sally's Cookie Addiction, as seen on Two Peas and Their Pod