Christmas Sprinkle Sugar Cookies
These sugar cookies are soft and chewy and loaded with festive Christmas sprinkles!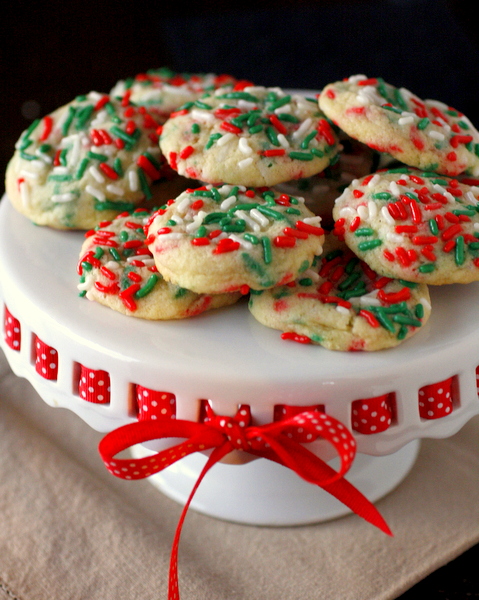 I am so excited to share these Christmas sprinkle sugar cookies with you! I know it's a little bit last minute, but these are about the easiest Christmas cookies you'll ever make, and they're extremely kid friendly! (Although really, what cookies aren't kid friendly? ;))
We had a Christmas party at our house last weekend and I just didn't have very much time to bake cookies leading up to the party. Believe it or not, something about having 4 small kids at home keeps me from having extra time to bake. 😉 I searched for sugar cookies with sprinkles and came across these perfect little Christmas cookies!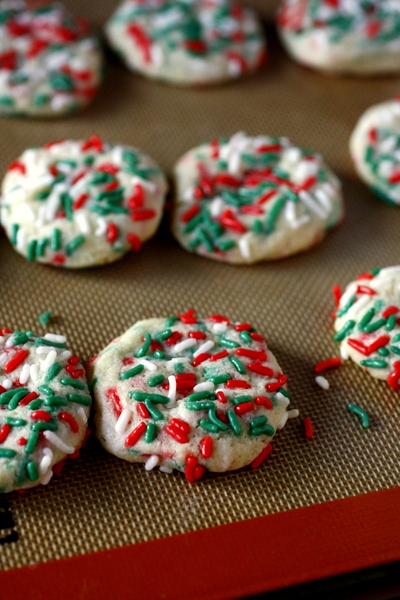 We love sugar cookies and cookies with icing on them are one of my favorite types of cookies. That being said, I just didn't have the time or energy to devote to rolling out cookie dough, using cookie cutters, and then icing the baked cookies – all with 4 eager helpers! So when I found these sprinkle sugar cookies that are simply rolled into balls and then baked, I knew it was my kind of recipe.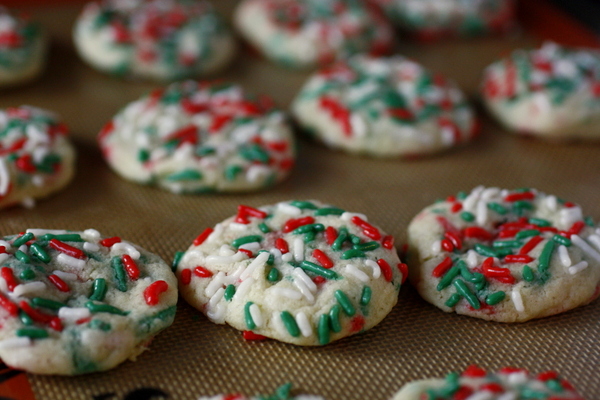 The dough for these cookies comes together so quickly and the recipe is simple enough that even young kids can help. You actually add sprinkles (I chose Christmas ones of course!) right into the batter so they're nice and festive. As an extra touch I also dipped the tops of the cookie dough balls in sprinkles as well (my kids' favorite part!), which made them look even cuter for Christmas!
The kids loved these, and it would be so easy to make different versions depending on what kind of sprinkles you have available. The base recipe is a super yummy sugar cookie recipe, so they aren't just cute, they taste great too! They are perfectly soft with just the slightest crunch from the sprinkles – yum!! If you need a last minute easy recipe for Christmas cookies, these are for you! 🙂
Looking for iced sugar cookies? Try these perfect Christmas sugar cookies!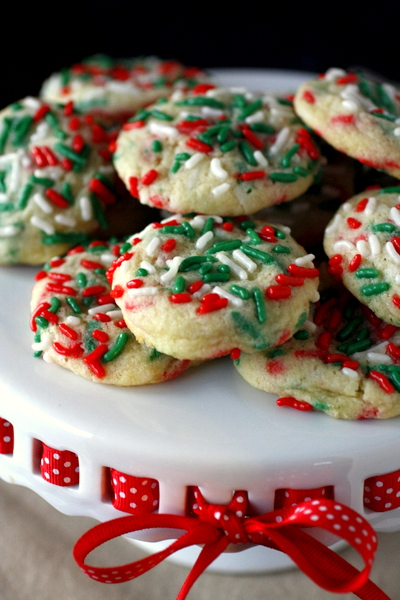 Christmas Sprinkle Sugar Cookies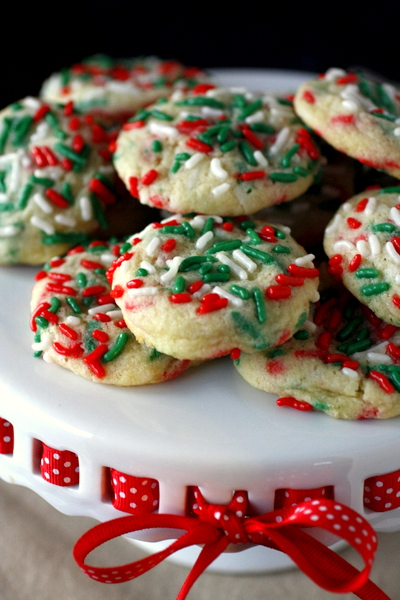 These sugar cookies are soft and chewy and loaded with festive Christmas sprinkles!
Total Time
2 hours
27 minutes
Ingredients
1 and 1/2 cups all-purpose flour (spoon & leveled)
1 and 1/2 teaspoons baking powder
1/4 teaspoon salt
1/2 cup unsalted butter, softened to room temperature
3/4 cup granulated sugar
1 large egg, at room temperature
1 teaspoon pure vanilla extract
1/2 cup sprinkles, plus more for topping
Instructions
In a medium sized bowl, whisk together the flour, baking powder, and salt. Set aside.
In a large bowl using a hand mixer or a stand mixer fitted with a paddle attachment, beat the butter and granulated sugar together on medium-high speed until creamed, about 1 minute. Add the egg and vanilla extract and beat on high speed until combined, about 1 minute. Scrape down the sides and up the bottom of the bowl and beat again as needed to combine.
Add the dry ingredients to the wet ingredients and mix on low until combined. Stir in 1/2 cup of sprinkles. Dough will be thick and sticky. Scoop cookie dough and roll into balls. Lightly dip the tops of the cookie dough balls in more sprinkles. Place dough balls onto a large plate or lined baking sheet.
Cover and chill the cookie dough balls in the refrigerator for at least 2 hours (and up to 4 days).
Preheat oven to 350°F (177°C). Line baking sheets with parchment paper or silicone baking mats. Set aside.
Arrange chilled cookie dough balls 3 inches apart on the baking sheets. Bake for 11-12 minutes or until lightly browned on the sides. The centers will look very soft.
Remove from the oven and allow cookies to cool on the baking sheet for 5 minutes before transferring to a wire rack to cool completely.