Apple Granola
Last night I tried a new granola recipe. I normally stick to the traditional recipe that my mom always makes, which is great, but I had some Grape Nuts cereal that I wanted to use up (leftover from a mistaken belief that they would taste good as cereal). I got this recipe from Apples of Gold last fall, and it is the reason I haven't just thrown the box of Grape Nuts away. Plus, this recipe involves wheat germ, which intrigued me.
The verdict? I am a huge fan of grape nuts and wheat germ in granola! It's so nice and crunchy. I think I like the flavor of my mom's better (although this one is still really good), but I might combine the two recipes in the future. This was nice and sweet, and a little apple-y, thanks to apple juice concentrate, and it was great mixed with yogurt this morning (and eaten straight off the cookie sheet last night).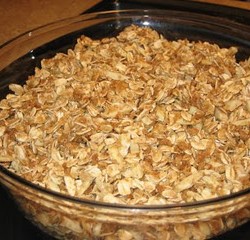 Apple Granola
Ingredients:
5 cups old fashioned oatmeal, uncooked
1 cup Grape Nuts cereal
1 cup sliced almonds (I used slivered)
1 cup un-toasted wheat germ (I used toasted)
1/2 cup brown sugar
1/2 cup honey
1/2 cup frozen apple juice concentrate, thawed
1 Tbsp vanilla extract
Directions:
Mix together the oatmeal, Grape Nuts cereal, almonds and wheat germ in a large bowl. Then mix the brown sugar, honey, apple juice concentrate and vanilla together. Pour the liquid mixture over the dry and stir till all is evenly coated. Spread granola mixture onto 2 cookie sheets and bake in a 250 degree oven for 30-40 minutes. Stir the mixture halfway through.
After the granola has cooled add any additional dried fruit.