Lentil Soup with Sausage and Kale
I got this recipe from my brother, Brian, and his girlfriend Laura. Brian mentioned to me that Laura made it during a recent visit and that it was good the first night and better the second. That sounded great to me, since I love having leftovers, so I decided to try it this past weekend. He was right – it was really good. I love sausage, so it's no wonder I like this soup, but I also like to try to eat healthy so I feel like the lentils balance it out a little. Mike liked it as well and rated it a 3.25. I think the slightly low rating was partially because of the kale – he seemed a little wary of it, and I think he thought it was spinach at first. But once I explained to him how much better kale is in soup than spinach (it's not slimy like spinach is – it's more hearty and chewy), he seemed more inclined to like it. Overall I would definitely recommend this soup – it's something a little different and it tastes really good.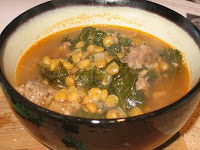 Lentil Soup with Sausage and Kale
Ingredients:
1 Tbsp olive oil
1 pound bulk hot Italian sausage
1 cup lentils
1 medium onion, chopped
3 to 4 cloves of garlic, grated or chopped
1/2 pound cremini mushrooms, wiped clean and thinly sliced
1 baking potato, peeled and diced
2 sprigs rosemary, leaves removed and chopped
3 to 4 sprigs thyme, leaves removed
Salt and ground black pepper
1/4 cup tomato paste
4 cups chicken stock
1 bunch kale, thick stems removed and discarded, leaves shredded
Directions:
Heat 1 Tbsp olive oil in a large soup pot over medium-high heat. Once hot, add the sausage and sauté for 3-4 minutes, breaking it up into small pieces with the back of a spoon as it cooks and browns. While the sausage is browning, pour the lentils out onto a light-colored plate and sift through them, discarding any small stones.
Add the onion, garlic, mushrooms, potato, rosemary, thyme, salt, pepper and the tomato paste to the browned sausage. Cook, stirring frequently, for 3-4 minutes. Add the stock and 2 cups of water, turn the heat up to high and bring to a boil. Add the lentils and the kale, stir until the kale wilts in then turn the heat down to medium and simmer 30-40 minutes, until the lentils are tender.