This is the perfect fall cake. It tastes wonderful, it's filled with apples and cinnamon, and it makes your whole house just feel like fall while you're baking it. This is an Apples of Gold recipe, and it lives up to the high expectations I tend to have for any Apples of Gold recipe. (Apples of Gold is a mentoring Bible study I took last year through my church. Younger women meet with a group of mentors and have a cooking lesson, Bible study, and time of fellowship. It's a wonderful experience!)
The cake is easy and quick to put together. The worst part is peeling the apples, and Mike helped with that part.

(That's the most "cooking" he's done in months…) The cake really does taste amazing – warm and spicy and fall-like, and just the perfect amount of sweetness. Everyone who tasted it loved it. Let me know if you decide to try it – I want everyone to like this cake as much as we do!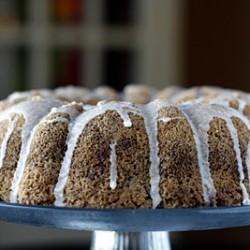 Fresh Apple Cake
Ingredients:
3 cups flour
1 tsp cinnamon
1 tsp nutmeg
1 tsp cloves
1 1/2 tsp baking soda
2 tsp baking powder
1 tsp salt
3 beaten eggs
2 cups sugar
1 1/2 cups salad oil (*Based on other recipes I've seen, I'm guessing you could replace at least half of this with applesauce)
3 cups chopped apples
1 cup pecans
Directions:
In a large bowl, sift together the dry ingredients. In a separate bowl, beat the eggs, sugar and salad oil together. Beat the dry and wet ingredients together with electric mixer until blended. Add the apples and nuts, folding in just until mixed. Put in greased tube pan and bake at 350 degrees for 1 hour and 15 minutes. (*start checking at about an hour).
Remove from pan and let cool on wire rack. When cool, top with powdered sugar or a light glaze (*I made a glaze of powdered sugar and water to put on top)