White Hot Chocolate
If you're looking for dessert in drink form, look no further. This is an ultra-sweet ultra-delicious white hot chocolate. It's actually very simple to make – I found it when I was looking online for a recipe that I could make with ingredients I had on hand. Most recipes I found included heavy cream, which I'm sure is delicious and thick and wonderful. But I didn't have any. And the thought of splitting 3 cups of cream (not to mention the white chocolate) between 4 people as the recipes suggested seemed like a bit much. So I used skim milk. Nothing like trying to lighten up a decadent drink. The end result wasn't incredibly thick, but it sure did taste great. Almost too sweet, and if you know me, that's not something I say often. I couldn't even drink a whole glass of this, but what I did have was amazing. So my advice to you is to make this. It will turn a cold snowy evening into something wonderful. But serve small portions.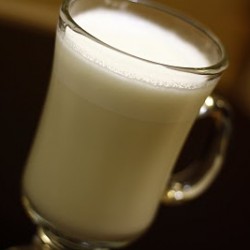 White Hot Chocolate
Ingredients:
1 1/2 cups milk
a little less than 1/2 cup chopped white chocolate *(the better quality chocolate, the better the drink will be. I used cheap white chocolate chips and it was still good)
1 tsp vanilla
Directions:
Heat milk over medium heat, stirring to prevent burning. Place the rest of the ingredients in a blender. When the milk is hot, pour it in the blender and mix until smooth and frothy. Serves 3, depending on portion sizes.
adapted from various internet recipes