Crockpot Taco Chicken
I had no idea this would be so good. I decided to make it spur of the moment because I happened to have the ingredients in the house and it seemed so easy. Even though I heard great things about it, I was still skeptical: salsa, cream of mushroom soup, and sour cream – how in the world could that make something that I would even remotely want to eat? But it did. Not only did we eat it, but after our first bite, Mike and I both looked at each other and said "wow, this is good!". I'm not really sure how you're supposed to serve it. I've seen it served over rice, but that didn't seem quite right to me. I think it would be great on a tortilla with some cheese, kind of like a chicken taco. We didn't have any tortillas, so we used it as a dip for tortilla chips. Not the healthiest dinner, but it sure was good. This would be a great party food/appetizer – keep the dip warm in a small crockpot, and serve with some chips, vegetables etc. The possibilities are endless.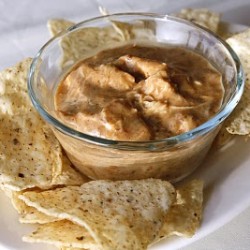 Crockpot Taco Chicken
Ingredients:
1 pound boneless skinless chicken breasts
1 can cream of mushroom or cream of chicken soup
1 cup salsa
1/2-3/4 package taco seasoning
1 cup sour cream
Directions:
Put chicken, soup, and salsa in slow cooker. Sprinkle taco seasoning over everything. Cook on low for 6 hours. Shred the chicken. Stir in sour cream and heat just until everything is combined.
*I'm guessing this meal is easily adaptable. I didn't have the right amount of anything, so I just eyeballed everything and it turned out great!