Monkey Bread Sticky Buns
I'm pretty sure most people have had monkey bread before. But in case you haven't, and have no idea what this strangely named concoction is, it's a gooey, sugary, sticky, cinnamon-flavored sweet bread. That you get to eat for breakfast. It's absolutely delicious. However, every time I tried to make it myself, it didn't turn out quite right. Probably because I would google "Monkey Bread" and randomly choose a recipe without paying close attention. But this time was different. This time I knew it would turn out well. A coworker brought this in as a treat one morning and as soon as I tasted it I emailed her asking for the recipe. It was incredible! So sweet and decadent and soft and sticky…even just writing about it makes me want more!
A word of caution, however. I managed to serve mine not fully cooked. It wasn't a big deal because I just threw the uncooked pieces back in the oven while we ate the cooked ones. They turned out fine and still tasted great.  However, having them fully cooked the first time would probably be better. I narrowed the problem down to too long of a rising time (the rolls were overflowing the pan before I even put them in the oven), so as long as you watch them, they should be fine! These are so easy to throw together, and a great treat for a special breakfast or brunch! Mike loved it and rated it 4.25. He just came in the room while I was writing this post, looked longingly at the pictures and said "why is that stuff so good??" 🙂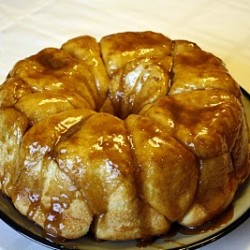 Monkey Bread Sticky Buns
Ingredients:
24-28 frozen bread rolls (individual rolls, not loaves), partially thawed (or completely frozen if refrigerating overnight)
1 stick margarine
1 cup brown sugar
1 small package cook and serve vanilla pudding (not instant)
1 tsp. cinnamon
1 cup nuts (optional)
Directions:
Spray Bundt pan. Arrange half of rolls in pan. Melt margarine then add other ingredients and bring to a boil. Pour about 2/3 of the syrup over rolls, then place remaining rolls on top and drizzle with remaining syrup.
Cover with plastic wrap and let rise until double in size and bake at 350 for 20-30 minutes. You can also put it all together at night, using unthawed rolls, cover and refrigerate overnight, and then let rise on the stove in the morning while the oven warms up.
Invert on a platter to serve (preferably something with sides so the syrup doesn't drip). You can also place a cookie sheet under the pan while baking in case some of the sticky stuff drips.