Baked Pineapple
This is possibly the perfect Easter side dish. I suppose if I was an "on the ball" food blogger, I would have made this in advance, posted it sometime in the weeks leading up to Easter, and encouraged you all to make it for your family get togethers. Instead I found myself hurriedly throwing this together on Easter morning, with barely enough time to snap a few pictures before rushing out the door. (Sorry for the poor photo quality.) Good thing it's so simple.
This really is the perfect accompaniment to a ham dinner. Warm, sweet pineapple flavored with cinnamon (and a little extra sugar).  It's a family tradition that I've managed to incorporate into Mike's family as well. Everyone loved it and I got multiple requests for the recipe (another reason to have your blog post up before Easter). It's incredibly quick to make, with a long baking time that gives you a little down time while it's just hanging out in the oven.  I've made this plenty of times and have yet to meet someone who doesn't love it!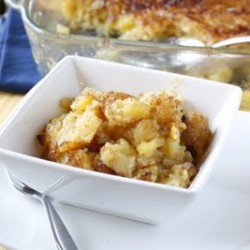 Baked Pineapple
Ingredients:
1 (20 oz) can crushed pineapple, juice and all
1 cup sugar
2 Tbsp cornstarch
2 eggs, beaten
1 tsp vanilla
Directions:
Mix all ingredients together. Pour into greased casserole. (A 2qt casserole or 8x8 pan works great.) Sprinkle with cinnamon and dot with butter. Bake without lid at 350 for 1 hour.