French Dip Sandwiches
This is a great quick and easy dinner. It tastes fantastic, and the whole thing is done in a crockpot. Perfect for a springtime evening whe you'd rather be out enjoying the nicer weather.  I found the recipe for these french dip sandwiches on Mel's blog, My Kitchen Cafe. I've tried so many of her recipes and every one has been a huge hit. This one is no exception. I tried it out when my in-laws came over for dinner, and it got great reviews! My parents also tried it after hearing me rave about it, and they really liked it too. Tender and juicy beef in a sandwich with peppers and onions and lots of melty cheese, served with au jus on the side for dipping.  Yum. 🙂 I served these on homemade buns, which just made them that much better. Mike's rating: 4.25.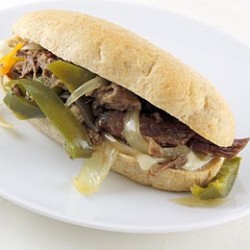 French Dip Sandwiches
Ingredients:
1 pot roast, anywhere from 2 to 4 pounds
1 green pepper, sliced
1 red bell pepper, sliced
1 medium onion, sliced
mozzarella slices
1 Au Jus sauce packet (found in the gravy mix aisle)
Rolls /buns
Directions:
In a crockpot, dissolve the au jus packet in 3 cups of cold water then add the roast. Cook on low for 6-8 hours. One hour before you plan to eat, shred the beef then slice the peppers and onions and add to crockpot. When it is finished, remove meat and veggies with a slotted spoon. Place mozzarella slices on buns and put under low broil until cheese is melted and lightly browned. Fill the rolls with the meat and veggies, then divide the Au Jus sauce into smaller bowls for dipping.