Lemon Drop Cookies
I bought some lemons a few weeks ago to make a lemon yogurt cake. They were on sale, so I figured why not buy a whole bag? Since I only needed 1 or 2 for the cake, I've been on a mission recently to find lemon recipes. (Mike's opinion: "I like all your lemon foods, but how many lemons did you buy??") I sent out a message for help on twitter, and Maria graciously responded with two wonderful recipes (you'll be seeing the other one soon!)
These Lemon Drop cookies are by far the most delicious way I've found to use up some extra lemons. Plus I think they're so cute! They're kind of like a lemon version of russian teacakes. The sweet, yet tart cookie melts in your mouth, and the lemon glaze is the perfect accent. I brought these to work and they were a huge hit. Lemon is a popular flavor around springtime, and everyone seemed to really like these. I made them while Mike was on a church retreat, so he hasn't tried them yet (a fact he has reminded me of quite a few times since he's been home.) They're so good, I'm glad I have an excuse to make them again so he can try them.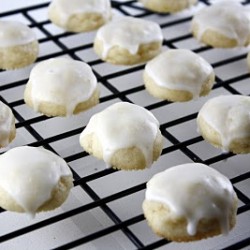 Lemon Drop Cookies
Ingredients:
Cookies:
1 1/4 c. flour
1/4 tsp baking powder
1/8 tsp salt
1/2 c. unsalted butter, at room temperature
1/4 c. powdered sugar
2 Tbsp granulated sugar
Zest of 1 large lemon (2 if they are small)
Juice of 1/2 lemon (about 2 Tbsp)
Glaze:
1/2 c. powdered sugar
Juice of 1/2 lemon (or more, depending on the consistency of the glaze)
Directions:
Preheat the oven to 375 degrees F. In a medium mixing bowl, whisk together flour, baking powder, and salt and set aside. In bowl of stand mixer, cream the butter and powdered sugar on medium. In a small bowl, rub the sugar and lemon zest together. Add to the butter mixture. Blend until smooth. Add the lemon juice and beat until well combined. Turn mixer to low, and slowly add in the dry ingredients. Turn the mixer up to medium and mix until flour mixture is combined. Chill the dough for at least 30 minutes and up to overnight. Roll the cookie dough into little balls, using a Tablespoon of dough or a little less per cookie. Place the cookies on a parchment lined baking sheet and bake 10-12 minutes or until bottoms are very slightly browned. Remove from oven and let cool on cookie sheets. Transfer to a cooling rack.
To make the glaze: mix powdered sugar and lemon juice together in a bowl. Use enough lemon juice that the glaze is about the consistency of honey. Dip the tops of the cookies into the glaze. Let sit until glaze is hard.